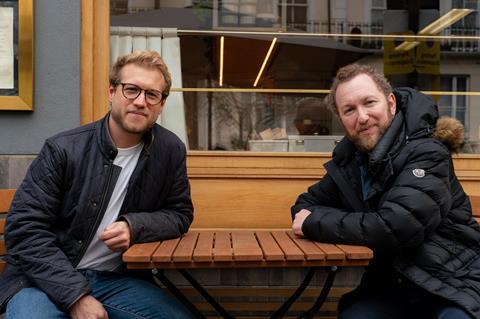 A new star-studded grocer and restaurant concept is coming to London in January next year.
Entrepreneur and co-founder of Burger & Lobster Misha Zelman, and former Harrods and Heston Blumenthal marketing chief Ben Hedley, are behind Notting Hill's new grab & go, Neyba.
The "multi-cuisine concept" will offer dine-in and takeaway meals that were created by renowned chefs including TV's Tony Singh, Miguel's Pizza's Miguel Barclay and sushi master Endo Kazotushi, as well as groceries, all under the same roof.
"We're excited about the launch of Neyba bringing not only fully prepared meals that are focused on delivery and eating on the go, but to bring individual grocery elements to our neighbours' homes," Zelman said.
The grocery section will offer fresh produce and cupboard staples, as well as specific ingredients that are featured in Neyba's original recipes so customers can recreate them at home.
Neyba is also partnering with Deliveroo, where shoppers can order grocery items and ready-made meals, as well as a weekly essentials box.
The multi-offer concept is set to compete with a broad spectrum of food players – including major supermarkets and local convenience stores on the grocery front, the likes of HelloFresh and Mindful Chef on the meal kit front, as well as other restaurants that are also available on delivery.
This is enabled by "the fact that you'll be able to kind of deconstruct these recipes and buy all of the individual grocery elements" from the same platform, and the appeal of putting together a meal in as little as 10 minutes, Hedley told The Grocer.
He said the idea for Neyba was conceived during lockdown after he and Misha became "frustrated with the style of food and the grocery selection" that was available particularly on delivery.
The two then pitched their friends in the food industry the concept of offering accessible, unique meals created by the star chefs based on family recipes or favourite ingredients.
"Having one place where we can go to sample what celebrity and Michelin star chefs eat at home, at affordable prices, we think is a game-changer."
The grocer and restaurant is also working with local suppliers to sell fresh baked goods in store.
Despite its grab & go focus, Neyba will also offer on-site dining with indoor seating, and customers can also enjoy a selection of alcoholic beverages and cocktails.
The site will be open seven days a week from 7am to 11pm.