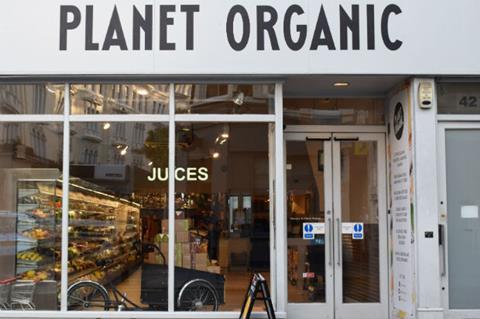 Planet Organic's full-year loss has widened from £2.5m in 2020 to £3.4m in 2021 due to Covid challenges.
The company credited "external factors", such as the ripple effects of store closures during the pandemic, the supply chain crisis and lower consumer confidence and spending, with the growing loss.
Planet Organic's EBITDA was –£1.4m, versus –£924,000 in 2020. Group revenues were also down 7.6% to £37.6m in 2021, compared with £40.7m the year before.
Chairman Ben Thomson said the comparison was affected by the acquisition of the As Nature Intended subsidiary, as well as the temporary and permanent closure of five stores during the period due to Covid.
Despite widening loss and growing negative earnings before tax, the company has set a new "ambitious" estate expansion goal – Planet Organic is now aiming to open 100 new stores across the UK over the next three years, twice as many as stated in the original plan of becoming a 50-store chain by 2025.
In order to support the rollout of the new branches, it is currently looking to raise £30m in funding over the next two years.
"It is an ambitious programme but we believe that the opportunities of this changing market is one where we can achieve this rollout of our more profitable store model in the locations we want and at rents that are affordable," Thomson said.
Planet Organic is currently amid a redevelopment plan, spearheaded by new CEO George Dymond, that includes major changes to its store estate strategy.
Its focus was now on predominantly residential areas with high footfall density of Planet Organic customers, it said, which is why it had decided to close all but one of its West End and City stores in London, and instead open new sites in Hampstead, Bermondsey and Hackney.
Thomson said: "We see this switch as an opportunity to move the business to residential communities which we believe will have much greater resilience in grocery if there is a recession."
The specialist organic retailer currently has 13 stores in the capital and is set to open a new location in Henley-on-Thames in the autumn.
Read more: Planet Organic to open first store outside London
"It is both a scary and exciting time to be in retail," Thomson added. "The threats are very real but so are opportunities. We believe that with the new structure led by George Dymond this is the time to be on the front foot to build a business of over 100 stores that matches in size the chains of the leading health food chains in France and Germany."
Dymond has been leading the new strategy since being appointed to the top role in December 2021. He replaced Peter Marsh, who had been CEO for 13 years.
Since then, Planet Organic has been focusing on growing its online operations, which it said had continued to expand "in terms of both sales and reach" through its own delivery model as well as a partnership with Deliveroo that offers in-demand groceries in London.
Additionally, the retailer moved to a centralised distribution model for the first time this year as part of its supply chain revamp programme. Deliveries from the new Sunbury-on-Thames distribution centre will be handled by Howard Tenens Logistics, the grocer's leading third-party provider as well as one of its shareholders.
In the months following the new CEO's appointment, the group has also restructured its senior management team to "bring in the experience needed to drive growth into the business", it said, with six new heads of Digital, HR, Buying, Supply, Marketing and Property.
One of Planet Organic's longest-standing buyers, Al Overton, has recently left the business. He initially resigned as a director at end of March 2022. Previous operations head Caroline Ottoy was appointed as a director in October 2021 and resigned from that role six months later.