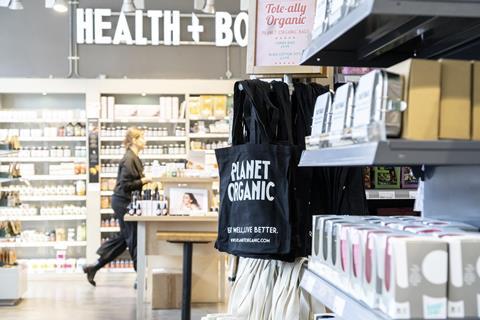 Planet Organic is opening its first distribution centre in partnership with Howard Tenens Logistics.
The specialist retailer's new centralised model is going live at its Sunbury-on-Thames distribution centre, which will serve all its stores daily.
Until now, Planet Organic stores received stock from approximately 200 suppliers per week, who made individual deliveries to each store.
According to the company, this led to a "highly inefficient and carbon intense supply chain" and caused "significant disruption" to store operations and the customer experience.
"Our supply chain today is just not fit for purpose and absolutely not in line with our Planet Organic ethos," said Planet Organic CEO George Dymond.
"By moving to a centralised supply chain, we will dramatically reduce our carbon footprint, as well as make our stores much easier to operate and allow our store colleagues to focus on providing great customer service by removing the need to handle so many deliveries every single day.
"The new supply chain will also enable us to help support smaller suppliers who may need warehouse information space as they grow."
In addition to becoming the grocer's leading third-party provider, Howard Tenens Logistics is also investing in Planet Organic as a shareholder, though the stake has not been disclosed.
The logistics company's MD Karl Hodgkinson said: "We are excited to form such a key part of the customer proposition and have been impressed in both the Planet Organic team and business strategy.
"With our intent to invest in wider partnership, we can further underpin the principal of delivering mutual value for Planet Organic customers, the conjoined and collaborative partnership with Planet Organic's management team and our colleagues at Sunbury-on-Thames."
The two are also focused on reducing carbon emissions and introducing key sustainable initiatives such as the application of hydrotreated vegetable oil (HVO) in place of white diesel.
This partnership is part of Planet Organic's wider plans to revamp its supply chain operations, which has been one of Dymond's biggest moves since becoming CEO in August last year.
He also confirmed the retailer has "big growth" plans for the future following the logistics deal, including expanding the store portfolio "significantly" and that joining forces with Howard Tenens would allow him to focus more on growing the estate and customer base.
"By also becoming a shareholder, they are committing, with us, to both grow the business and lower our environmental impact," he said.