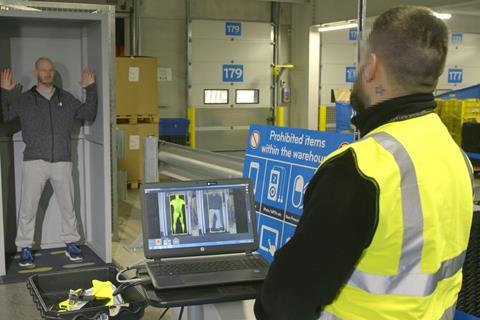 Morrisons has completed the rollout of heat scanners across all its distribution centres to detect shrinkage while maintaining social distancing.
The supermarket trialled technology from Thruvision, which senses the heat an individual is giving off so objects they are hiding on their person show up as a black spot, at its Northampton DC last summer.
Morrisons rolled out the scanners across its entire distribution estate earlier this year. The tech is now coming into its own as it allows for security measures to continue at a safe distance of up to four metres.
"Having invested in upgrading our depot security infrastructure, Thruvision's new 'safe distance' technology is now helping us respond to the unique challenges of coronavirus," said Morrisons senior loss prevention manager David Oliver.
The retailer had previously asked workers to empty their pockets at the end of their shifts and used hand-held metal detectors. The approach caused conflict with staff and was slow, as well as ineffective.
With the coronavirus pandemic – during which the government has advised people to stay two metres away from others at all times – "close proximity" security measures, as Oliver put it, would have been impossible.
The technology has been rolled out with other security updates, including higher-quality CCTV, face recognition technology and access control gates.
According to a 2019 study by Università Cattolica del Sacro Cuore in Milan, European grocers suffer a shrinkage rate of around 2%, a figure that includes employee theft. This is supported by the 2018 Sensormatic Global Shrink Index, which put the average grocery shrink rate at 1.8% of revenue. Of this, 23% is due to internal theft, with about 5% taking place in DCs, the index found.
"Grazing – where employees help themselves to food or drink items – is a particular issue in DCs where security operations are lax, staff are more confident they can steal or graze without being caught, and this culture starts to become the norm," Thruvision said.
Thruvision scanners are being used by Next, Boots, JD Sports, Matalan and Sports Direct. The technology was trialled late last year at Stratford station in East London by British Transport Police and the Metropolitan Police in a bid to crack down on knife crime.