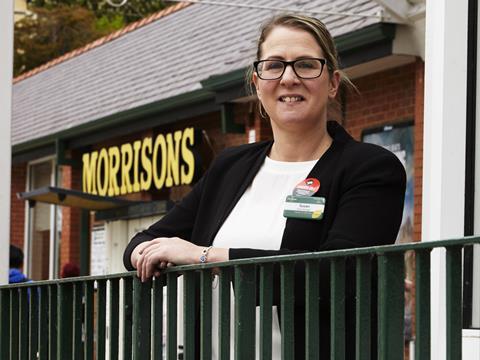 Have Bangor customers been having a lovely time in the sunshine? Yes, the great weather came in time for the bank holiday weekend, which was brilliant. Barbecue sales especially were absolutely flying. We also have a really good meat counter, which is perfect for the barbecue season.
Winner: Morrisons Bangor
Store manager: Susan Stuhlfelder
Size: 21,000 sq ft
Opened: 2005
Market share: 13.6%
Nearest rivals: Lidl - 0.2 miles; Aldi - 0.4 miles; Tesco - 1.5 miles; Asda - 5 miles
Store data source: Analysis by CACI. Call the market planning group on 020 7602 6000
What is your favourite part of the store? It has to be the market Street section because that is where we really have a point of difference. Here in Bangor we have a great hatchery section that really looks like a traditional butcher counter. Then we have a cheese display, which is so well done I've not seen anything to touch it.

You only started as a manager seven months ago. Do you have any mentors you can speak to? Yes, a couple of previous store managers I worked under, and our area manager - she is very much a mentor who believes in me. I started as a cashier but always had an ambition to be a manager one day. I can't believe I'm actually doing this job. It's great to have these people I can speak to offer advice.

Are there any initiatives you have brought in since you started as manager? We are very much a student store. The university is right behind us and the student accommodation is all around. This includes a huge Chinese community of students, many of whom stay here all year round. I have got together with the university to hold meetings about what we can do in store to better serve them. Hopefully it will help us increase sales but also do a better job to serve the students who live here.

How are the students enjoying the revamped Savers range that launched last month? It has gone down very well. The launch was a very big deal and we backed it up with lots of point of sale marketing and marketing at the front of the store. I think the new range looks much fresher and more approachable and sales have been going really well.