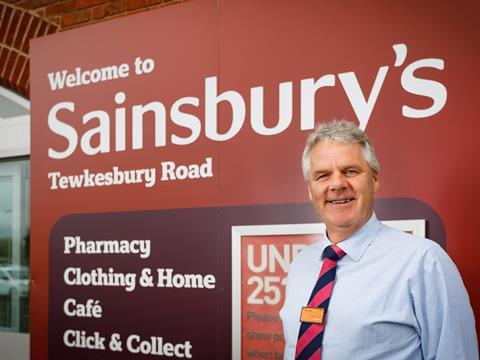 Congratulations on your win. You were here when the store opened in 1988. That's right. It's been 29 years and I think this store has had more extensions and refurbishments than any other I can recall over that time.

Have there been any recent changes? The addition of a Specsavers concession at the back end of last year. It's gone extremely well and our customers like it because it's about convenience. It's convenient for our shoppers to have an optician and convenient for Specsavers customers to come here. We also have a Lloyds Pharmacy concession, Explore Learning, Jessops and Timpson.

You have a lot of competition nearby… Yes, we have Whole Foods in our retail park, which opened three years ago, and there's an Aldi over the road that's undergoing a refit at the moment. The competition can have added benefits because it brings footfall to the site.

What are you doing in store to mark Easter? Easter is our main focus at the moment. It's an exciting time for us to trade and get a footfall increase. We've got a colouring competition going on for children and a 'hide the bunny' competition planned for Easter Saturday. It's something I've done in previous stores that generates a bit of interest and it keeps the kids occupied while mum and dad are shopping.

Sainsbury's seems keen to capitalise on the trend for scratch cooking. What are you doing in your store? We've got a 'meal for tonight' section, which has inspirational ingredients for recipes all in one place. We're also trying different things like spaghetti made out of courgettes and waffles made out of sweet potatoes, and those have gone down really well.

How are free-from products doing? It's been a real success story. We've expanded the ambient range over the past few months along with free-from bread and free-from perishables. We've seen sales grow continually.
Winner: Sainsbury's Gallagher Retail Park, Cheltenham
Store manager: Simon Lloyd
Size: 50,000 sq ft
Opened: 1988
Market share: 12.6%
Nearest rivals: Aldi - 0.2 miles, Co-op - 0.7 miles, Iceland - 1.2 miles, Tesco - 1.2 miles
Store data source: Analysis by CACI. Call the market planning group on 020 7602 6000