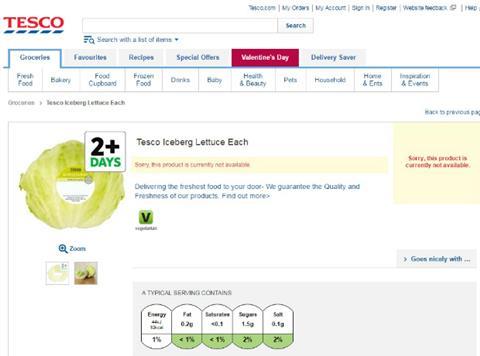 Tesco and Morrisons have been forced to ration sales of iceberg lettuces in a bid to stop their stocks from being "wiped out" by an availability crisis.
The retailers have placed signs in stores warning customers sales are being restricted, as a result of ongoing supply difficulties on a raft of fresh produce due to poor weather in Spain.
"We want to try to ensure we still have availability of these products despite the well-publicised problems with suppliers," said a Tesco spokeswoman. The retailer is rationing iceberg sales to a maximum of three lettuces each until further notice, while the product is also listed as not available on its website.
Meanwhile, Morrisons has rationed iceberg sales to two per person, and has also slapped restrictions on the sale of broccoli to three heads of the veg per person. "Our availability of broccoli and iceberg lettuce is good. However, other businesses are experiencing shortages and we have seen some bulk buying in our stores," said a spokesman for the retailer.
Tesco did not have any immediate plans to extend rationing to other products but it "could not be ruled out", a spokeswoman added.
"The thing we didn't want is for our shelves to be wiped out by people stocking up for restaurants and the like," she said. "We have been suffering from supply issues and our availability isn't what we would like but we do have some availability and we have not put up our prices."
Sainsbury's and Asda both said they had no plans to limit sales. However, Sainsbury's Cardiff store manager Rachel Thompson told The Grocer this week the shortages had a "knock-on effect" on availability in-store.
An Asda statement said: "A run of unusually bad weather has resulted in availability issues on a small number of salad items and vegetables such as courgettes and aubergines".
Aldi, Lidl and Waitrose all told The Grocer they had no plans to impose rationing.
Bad weather
Iceberg lettuce is the latest product to be affected by widespread crop shortages from the Spanish region of Murcia, which has suffered from record rainfall over the past three months, causing significant crop failures.
Rationing sales of some items would help supermarkets to protect availability, suggested Anthony Gardiner, marketing director for produce supplier G's Fresh.
"There is less produce on the wholesale market, and as a result of this a lot of foodservice operators such as cafés and restaurants are now looking at supermarkets," he said.
"I wouldn't expect these supply issues to settle down until at least April or May, when UK fruit and veg seasons start. Murcia really is the breadbasket of Europe at this time of year, and all crops grown in that region are potentially affected."
Retail prices for own-label iceberg rose from 50p to £1.17 in Morrisons this week [BrandView.com]. Tesco last increased the price of a lettuce by 5p to 50p in mid January, Asda hiked its price by 10p to 60p this week, while Aldi and Lidl both increased their prices, by 6p and 1p respectively, on 20 January.