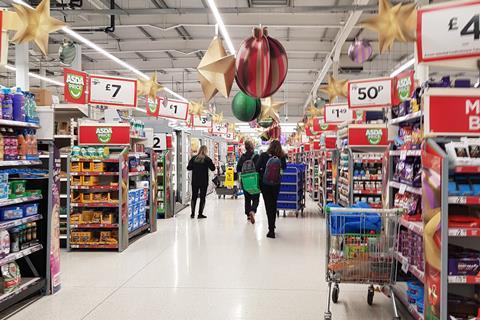 The majority of UK retailers are expecting supply chain disruption in the lead up to Christmas to affect their holiday sales, a new study shows.
Around three-quarters of British retailers said they estimated revenue losses of between 5% and 30% during the all-important festive period due to a mix of supply chain and post-Brexit issues paired with reduced consumer spending, according to a survey of 100 supply chain leaders by business spend management software company Coupa.
Global supply chains are still recovering from turbulence kickstarted by Covid and exacerbated by the war in Ukraine and other geopolitical tensions, as well as inflationary pressures.
More than 80% of retailers anticipated those disruptions to negatively impact sales this holiday season, which Coupa said could result in a heavy blow for UK businesses and the economy.
Some four in 10 expected revenue losses of between 5%-10%, while two in 10 expected losses of between 10%-15%. One in 10 UK retailers said they expected revenue losses between of 15%-20%.
Lower consumer spending is also a key factor affecting festive sales as Brits continue to feel the cost of living squeeze.
"As supply chain issues and cost of living put the squeeze on revenues this season, retailers will be in a race to maximise profit margin and meet demand, while still keeping prices down for consumers," said Matthew Woodcock, Coupa's regional VP for supply chain strategy.
"As the UK braces itself for continued economic disruption and post-Brexit challenges, ensuring smooth supply chain operations will be key to minimising these challenges in the long term."
Many retailers are already predicting shortages of key holiday staples, with food, household goods and décor, and toys topping the list of categories where British supermarkets are set to struggle the most with supply issues.
More than 40% of respondents said they were already experiencing out-of-stocks on key holiday items this year, while half said they were concerned about one or more of their suppliers shutting down.
Woodcock warned that with product shortages "likely to impact consumer access to essential goods", it was vital retailers found ways to prepare for the risks ahead and streamline supply chain processes while "ensuring they can keep prices down without compromising on revenue".
The Grocer approached major supermarkets for a comment.
A Waitrose spokesperson said the grocer was heading into the peak trading period "in a strong position, and a supply chain that's is in great shape".
"We've also got a well resourced team, allowing us to respond quickly if there are any last minute changes, and have recruited extra temps to support us through the season", she added.
Neverthless, Christmas is typically a period where availability fluctuates as high demand means supply chains often struggle to keep up.
This sentiment was echoed by yet another report out this week which showed consumer products and retail companies worldwide expected geopolitical issues to impact the costs and efficiency of their supply chains.
According to Capgemini Research, nearly half (42%) of consumer goods and retail companies were anticipating stockouts or product shortages during the 2023 holiday season, while 38% expected late deliveries to their customers due to import delays and 35% foresaw labour shortages.
The majority of businesses were diversifying and localising their supply chain networks in the lead up to Christmas to prevent out-of-stocks, the report showed.
"In order to adapt and thrive, consumer product and retail organisations should focus on preparing for the holiday season, which can be a profitable yet challenging period," said Lindsey Mazza, global retail lead at Capgemini.
"Optimising inventories, localising supply chain networks and exploring alternate fulfillment options can help businesses be more prepared during this period to meet consumer expectations."