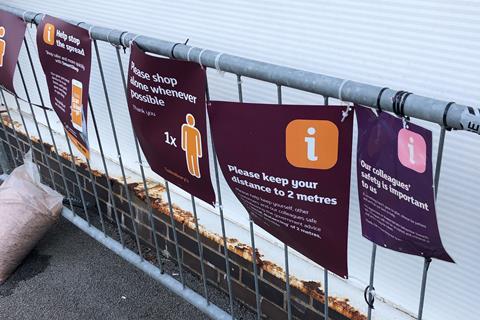 Sainsbury's is to voluntarily cut customer numbers in store by up to 35%, as supermarkets introduce tougher measures to help prevent the spread of Covid.
The move came as the supermarket announced it was putting trained security guards on its doors to challenge customers without masks and to prevent customers shopping in groups.
Morrisons yesterday became the first supermarket to announce it would ban customers without masks from entering stores, but the move from Sainsbury's is the first to impose new limits on numbers.
"Under these measures, customer numbers will be reduced by between 25%-35% in our stores," said a Sainsbury's spokeswoman.
"We are doing all of this in response to feedback from our staff and concern over stores becoming too busy, as well as concerns over mask wearing."
It comes after Boris Johnson met with ministers on Sunday to discuss ways the lockdown can be toughened, amid growing pressure on hospitals.
Sainsbury's CEO Simon Roberts said: "I've spent a lot of time in our stores reviewing the latest situation over the last few days and on behalf of all my colleagues, I am asking our customers to help us keep everyone safe.
"The vast majority of customers are shopping safely, but I have also seen some customers trying to shop without a mask and shopping in larger family groups. Please help us to keep all our colleagues and customers safe by always wearing a mask and by shopping alone. Everyone's care and consideration matters now more than ever."
Read more:
Yesterday, Morrisons CEO David Potts explained its new tougher stance in a message to customers, saying: "Those who are offered a face covering and decline to wear one won't be allowed to shop at Morrisons unless they are medically exempt.
"Our store colleagues are working hard to feed you and your family. Please be kind."
Shopworkers' union Usdaw said it had been "inundated" with complaints from staff "deeply concerned" for their safety from customers flouting in-store coronavirus measures.
BRC head of food policy Andrew Opie said that while stores were doing everything they could, it was down to the police to enforce Covid regulations.
"It's great to see companies reinforcing the message that shoppers should be wearing a mask because there's a level of exasperation both from retailers and customers that there is a persistent minority that are not wearing masks," he told the BBC Today programme.
"But there is a question about enforcement and how you stop that happening.
"We know that levels of abuse to store workers that have been marshalling queues and letting people into stores has really accelerated through the Covid lockdown.
"Yes, we can reinforce the message and yes, stores will do everything to make it happen but ultimately we need police support to make this work."
Police chiefs have indicated they will be stepping up enforcement of Covid measures, but Opie said violence against shop staff had long been an issue not treated seriously enough.
"We are not talking about police being at the entrance of every supermarket, but we are asking for more visibility. And a close liaison with the supermarkets.
"Retail crime and abuse against retail workers, which is currently running at 400,000 cases a day, has been very much neglected by the government and the police for decades."