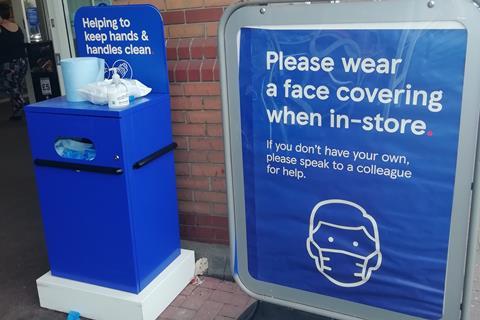 Supermarkets across the UK are facing the possibility of tighter restrictions on numbers and a clampdown on mask wearing, as soaring cases of Covid risk overwhelming the NHS.
PM Boris Johnson is reported to have met with ministers yesterday to discuss ways the lockdown can be toughened, with fears rules in supermarkets are not being followed closely enough one of the issues being looked at.
There have been reports that as well as reduced numbers supermarkets may face more police and council inspections and could become legally responsible for customers wearing face masks.
The Grocer understands supermarket bosses are also coming under pressure to beef up their messages to customers about compliance with social distancing, even though stores have already spent millions on measures such as Perspex screens, marshals and sanitisation stations.
Today minister for Covid vaccine deployment Nadhim Zahawi said the government wanted to stop customers pushing the boundaries of social distancing rules in supermarkets, which unlike other retailers have remained open in the tougher lockdown and have continued to trade throughout the pandemic.
Read more:
"We are reviewing all the restrictions," Zahawi told the BBC Today programme. "We are concerned that, for example, in supermarkets we need to make sure people actually wear masks and follow the one-way system, and when they are at capacity to operate safely, people wait outside."
However, he stopped short of saying enforcement of the rules should be passed to supermarkets.
Zahawi also today praised supermarkets for doing "a tremendous job" in maintaining food supplies in the crisis and in offering logistical help for the rollout of the vaccine.
The government discussions on tighter supermarket rules come after the Welsh government said last week it was considering tougher restrictions on the number of shoppers inside stores, alongside more police and environmental health inspections, including checks on whether staff and customers are wearing masks.
Meanwhile Tesco has paid tribute after two staff at a superstore in Greenock, Scotland, were confirmed to have died after contracting Covid-19.
A spokeswoman said: "Our thoughts are with their families and we are supporting our store colleagues at this difficult time."
Unions and industry leaders have called for frontline food workers to be prioritised in the vaccine rollout.