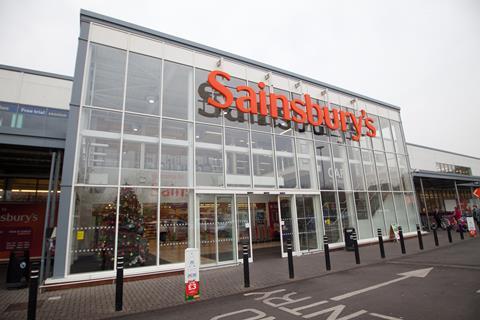 Supermarkets are running more than 4,000 online promotions for unhealthy food every week, with Sainsbury's the only retailer geared up for the looming ban, according to new research.
A survey commissioned by shareholders' group ShareAction found 3,000 of those promotions were at least in part aimed at children.
Over a five-week period from August to September this year, research foundation Questionmark tracked promotions of food products in the online stores of the big four supermarkets. It analysed the health profile of these products, using the UK government's nutrient profiling model, which assesses whether products are high in fat, sugar and/or salt (HFSS).
The research found the supermarkets ran 48,600 food promotions for approximately 11,700 distinct food products in total. Over 21,000 (43%) of these promotions were for less healthy (HFSS) products. Sainsbury's and Morrisons ran the most promotions for HFSS products in total: each approximately 5,700 over five weeks, closely followed by Asda and Tesco, which each had around 5,000.
The study also looked at which supermarkets were best prepared for new health legislation approved by the UK Parliament last month, restricting the most harmful online and in-store promotions of HFSS products by price and location.
It claimed Sainsbury's was the only supermarket well prepared for the new restrictions, as it had already ceased multibuy promotions of all HFSS products.
Other supermarkets, it said, still relied heavily on promotions that would be banned under the new measures. Asda and Morrisons each ran over 300 of these promotions per week, on average. At Tesco the number was more moderate, with 120 such promotions per week on average.
However, the study also found that Sainsbury's had not stopped promoting unhealthy products. Instead it had shifted its strategy away from multibuy promotions towards meal deals and other price promotions, which will not be addressed by the new regulations.
The survey is the latest attempt by ShareAction to force supermarkets to change their policies on healthy food. In March, following its pressure, Tesco CEO Ken Murphy announced a new commitment to tackle obesity, including a new target for a major programme of reformulation, which set the aim of 65% of total sales coming from products defined as healthy by the nutrient profiling model.
It also had a high-profile spat with Morrisons over its alleged lack of action on obesity – something the supermarket strongly denied.
"With two in every three pounds spent in food going to supermarkets, these companies have a major influence on the nation's eating habit," said Ignacio Vazquez, senior manager at ShareAction.
"By better integrating considerations around nutrition in their promotional and marketing strategies, progressive retailers can stay ahead of growing regulation in this space while driving improvements in public health outcomes."
Charlotte Linnebank, director at Questionmark, added: "Superlist Health 2021 shows that the new legislation leaves ample room for individual supermarkets to lead the way towards a healthy food environment. Our research findings confirm the importance of improving transparency across supermarkets' current practices."
BRC director of food & sustainability Andrew Opie said: "Retailers offer value across their whole range to ensure consumers get the best deal. A proportion of these deals are likely to be on more indulgent foods, but ones which could easily be part of a balanced diet.
"Supermarkets have also led the way on clear labelling and developed lower fat and sugar products to help customers make healthier choices."