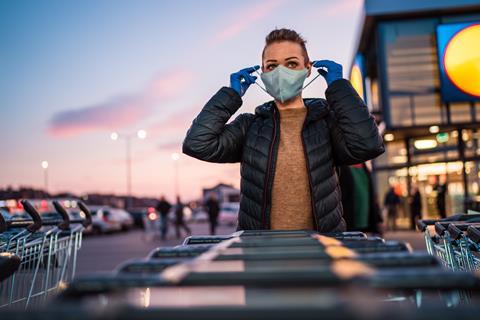 Following the English government's announcement that lockdown might extend until the summer, our expectations for the vaccine leading us back to imminent normality appears to need adjustment. It would seem face coverings and the other measures that go alongside the pandemic may be in our future for some time.
Despite most of retail being closed, much has been written about retail being required to play a greater part in stopping the spread of Covid-19 and being subject to greater interest from the regulators. With grocery trade continuing throughout the pandemic, no part of the sector has played a greater part than the supermarkets and their suppliers, who have done a herculean job to keep stores stocked and safe to shop. That has required a huge investment and considerable flexibility to continually adjust to new rules and duties.
We have recently seen Wales announce further requirements for retailers, which include legally mandating measures for controlling entry and limiting the amount of customers who may be in a store at any given time. It also makes other measures, like the availability of hand sanitisation products and sanitised baskets and trolleys, a legal requirement for the first time. Those shopping in Wales will also hear more frequent announcements regarding social distancing, as the new law also requires this, in addition to signs and other visual aids.
All of these measures must now be in place – though the law does not quantify any of them. While these measures are specific to Wales, and in the most part had been adopted by most grocers nationwide already, it remains to be seen if elsewhere in the UK will follow suit or whether, like with face coverings, it will be for retailers to take the lead themselves.
Read more:
When it comes to enforcing the wearing of face coverings, the position is a particularly difficult topic. This is not because the law is unclear – far from it. The law clearly states that you and I, as customers, must wear a face covering when inside a shop. It is also abundantly clear that this is enforced by the police and local authorities. Despite what you hear, there is also not a word about retailer enforcement in sight.
Therefore, it is laudable that the retailers have stepped up and taken on more responsibility than they are legally required to. However, doing the right thing is not easy and there is a long list of reasonable excuses for not wearing a face covering, which means the situation is far from binary. That list starts with reasons of physical and mental illness or impairment or disability, and then moves on to an even broader exemption, where wearing a face covering would cause severe distress. In most cases these issues would not be visually obvious.
This can then present a challenging situation for staff who have to try to determine whether or not the reason given by a customer who's not wearing a face mask, is valid. While staff might be trained to check customers' ages, they are not trained with suitable experience to make this sort of challenge which, if done insensitively, can result in distress to those being questioned, potential discrimination issues, and in the worst cases, the potential escalation into a violent situation. It then becomes even more difficult to manage this inside stores, where people might remove their face covering after entry – it may also lead to the same person being challenged on multiple occasions, which increases the risk of conflict.
Some have said the solution is easy: stores should simply engage a security guard – they deal with shoplifting after all, so they can easily cover this. Or that if you just do it thoughtfully it will all be OK. But the harsh reality of retail is that this is not the case. The British Retail Consortium's most recent Retail Crime Survey reports that there are 400 incidents of retail violence every day in the UK. This led to the BRC launching the Shopworkers' Protection Pledge in autumn 2020, which was signed by more than 50 MPs. The numbers of retail violence incidents have been rising during Covid and our clients are telling us there are a lot of customers complaining vociferously about face mask enforcement. The difficulty of doing it cannot be understated.
There have been many unsung heroes during this pandemic and those working in our grocery stores to keep the nation fed during these most difficult times deserve to be recognised and praised, rather than criticised for not doing the job of the regulators.