Negotiations remain ongoing, but farmers fear a flood of imports
The Australian trade deal has provoked strong reactions across the board. Proponents of the deal argue it is the first step towards 'Global Britain'. On the flip side, critics warn it could put British farmers out of business (though trade experts expect the reality to be less dramatic).
Yet all these predictions come with a caveat of uncertainty. Because we still know remarkably little about the agreement itself. While the UK has tabled an offer of zero-tariffs, zero-quotas, further details are scant and negotiations are ongoing.
With that in mind, the Labour Party and the NFU issued a set of questions last weekend in attempts to garner further information. So, what are we still waiting to know?
The most obvious question is whether Australia will be able to export food produced to standards illegal in the UK.
As Vicki Hird, head of sustainable farming at Sustain, points out: "Australia permits the use of growth hormones and practices such as cutting the skin off live sheep, both of which are banned here. They permit the use of twice the number of hazardous pesticides as the UK does and use 16 times more antibiotics in poultry production. They have a lamentable record on clearing forests for agriculture."
Ahead of COP26 in October, many will be hoping the UK matches its domestic ambitions on climate change with its trade agreements.
"Australia permits the use of growth hormones and practices such as cutting the skin off live sheep, both of which are banned here"
"Protections for the environment, animal welfare and food safety are non-negotiable," trade minister Ranil Jayawardena told the Grocer, echoing similar comments made by trade secretary Liz Truss, who said any Australian beef and lamb exports would "have to fit UK standards".
Still, even if it's only premium Australian food arriving on British shores, concerns remain. Peter Hardwick, trade advisor at the BMPA, says even small volumes of expensive cuts could have a disproportionately large impact on the British market.
At the moment, Australia can typically attain higher prices for meat in Asia. But this of course is liable to change. It leaves fears that without a quota in place to limit the amount of meat able to enter the UK tariff-free, Australian meat exports could surge in the future.
UK beef trade with Australia in numbers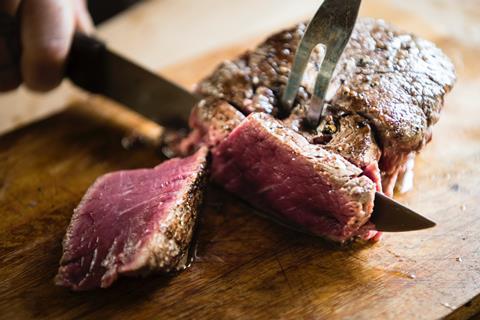 559 tonnes of beef sold to the UK by Australia in 2020
1.2m tonnes of beef consumed by Brits in 2017
0.04% rough percentage of beef eaten in Britain that is Australian
Sources: HMRC, Statista
Why no quotas?
Given Australia has effective quotas in its trade deal with countries like Japan, why does the UK not follow suit?
"Australia has a quota today. They're not using all of it," says Jaywardena. "This demonstrates that the idea a quota is needed to protect Britain is without basis." Claims Britain could be flooded by meat in the future are "scaremongering" by Labour politicians, he argues.
Still, even if Australia doesn't spell catastrophe for British farmers, there are suggestions it could set a precedent for trade talks with the likes of Brazil and the US. Canada is reportedly hoping so. Ottawa officials told the Sunday Telegraph this week they will press for greater market access for agricultural products in light of the Australian announcements.
In reality, whether this comes to pass will depend on whether countries such as Canada – with big agricultural sectors to protect – are willing to ease their own import barriers. And if not, whether the UK will offer it tariff-free access without the offer of reciprocation.
The list of questions hanging over an Australia deal is long and the implications complex. But if the Australia deal is to be completed by next month's G7 Summit, time for contemplation will be short.