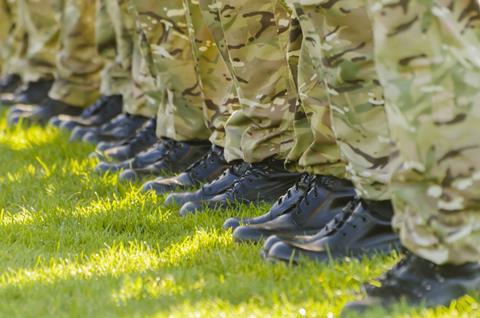 The army could be put on standby to deliver food to supermarkets under contingency plans to cope with the coronavirus outbreak.

The Grocer understands the use of military personnel is likely to be discussed by the Food Chain Emergency Liaison Group (FCELG), which held its first meeting since the crisis began on Friday.

A source said the measure was "likely to be among the things that are looked at" amid concerns a severe outbreak of the virus in the UK would lead to major staff shortages at suppliers and haulage companies.

Ministers have stepped up their talks with the industry following criticism of their "slow response" to the crisis last week.

The FCELG, billed as the food equivalent of the government's Cobra committee, was previously involved in emergency planning for food shortages in the event of a no-deal Brexit.
Among the proposals discussed were for the army to deliver food and medical supplies in the event of gridlock at the ports.

Following criticism of the delays to its first meeting, it is now understood the FCELG may meet on a weekly basis while the crisis continues.

"Personally I was very surprised that it was not until Friday that the FCELG had its first meeting," the source added. "I believe it should have happened a week or 10 days ago at least, but it appears that the government is now playing catch-up and is making every effort to work with the industry to make contingency plans."

Asked what the biggest threat to the industry was from the virus, they said: "I think it is definitely around the issue of workforce availability. If the predictions are right about the proportion of the workforce that could be affected, then it is going to be a major issue from manning suppliers' factories to lorry drivers."

Retail leaders held talks yesterday with environment secretary George Eustice in which he agreed to lift restrictions on night-time curfews on supermarket deliveries and allow extensions to the maximum hours of drivers, though this has sparked health and safety fears.

"Getting rid of curfew is one thing but there also need to be drivers to deliver food supplies and people in the factories to make them," said the source. "This is going to be a major focus of the talks with the government as they progress."

The government is considering introducing the emergency registration of retired doctors as part of its battle plan against coronavirus, and the FCELG will also discuss ways to ensure staff shortages allow food production to continue.

However, barriers include the highly specialised equipment used in some types of food ingredient delivery, as well as the need for food safety-trained staff to man factories.