The sustainability backlash is coming for feminine care. As statistics emerge on the staggering amount of waste resulting from feminine hygiene products, eco-conscious consumers are demanding alternatives that are better for their bodies and the planet.
Some supermarkets are beginning to take note, but what exactly are the most sustainable options? Which brands are leading the charge? And how can suppliers keep up with the evolution of the category?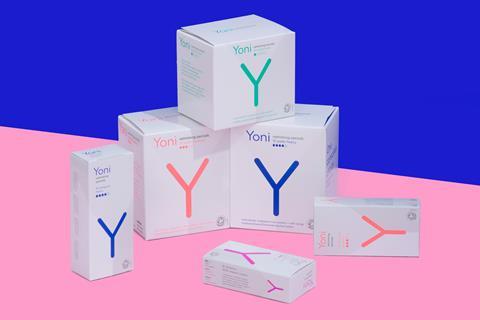 Chemical-free
Non-GM, organic and free from chemicals – eco-minded consumers have long applied these criteria to the food they put in their reusable shopping bag. So what of the personal care products they put into their bodies once a month?
Although disposable tampons and sanitary towels are the mainstay of feminine care, 80% of women don't realise that the majority of these products aren't made with cotton or compostable materials but often use synthetic materials containing plastic and perfume, as well as bleach, glue, chlorine and even glyphosate, the controversial ingredient used in some weed killers. It's not a legal requirement for such ingredients – or indeed any – to be listed on feminine care packaging, but the campaign to raise awareness is gaining pace and as a result, organic, biodegradable cotton tampon brand Yoni now has seven SKUs listed in Sainsbury's.
Yoni isn't the only brand challenging the norm when it comes to disposable products. Tesco began stocking Time of the Month's organic, non-GM cotton products in October, and the D2C market now features players such as &Sisters, Tampon Tribe and Freda, which donates £1 from each order of its organic, perfume-free subscription boxes to help end period poverty.
View this post on Instagram
Reusable
Organic or not, even disposable items made from biodegradable cotton end up in landfill. That's where reusable alternatives come in. A search on Etsy for 'reusable menstrual pads' brings up thousands of results from independent makers, and now brands are beginning to sell the items on a larger scale. Bloom & Nora offers a range of reusable sanitary towels in both natural bamboo and bright, stain-repellent white colourways. They come in four packs of varying sizes suitable for all types of flow, allowing women to make a direct swap from their usual pad to the reusable equivalent, whatever size they require. And this could mean big business: according to Mintel, 83% of women say they would try a reusable sanitary pad.
Period underwear is also gathering pace. Designed to be worn instead of or as a back-up for tampons or cups, period underwear contains layers or absorbent, leak-proof material and can hold up to two tampons worth of liquid. Brands such as Modibodi and Thinx market themselves as a modern, comfortable and sustainable solution to the disposable problem, offering a range of fashionable and flattering underwear styles to suit all types of body and flow.
Reduced plastic
From fruit and veg to alcoholic drinks, no category can escape the backlash against single-use plastic. The same goes for sanitary products as consumers wake up to the levels of waste produced as a result of their monthly cycle. According to the US-based National Research Center for Women & Families, the average menstruator uses somewhere between 11,000 and 16,000 tampons and 12,000 pads in a lifetime. That's equal to 160kg of waste, without including packaging or applicators.
"We have all been made aware of the impact of single-use plastics and, unfortunately, conventional menstrual products are just that," says Rachael Newton, founder of circular menstrual cup brand Nixit.
"There are up to four plastic bags worth of plastic in a packet of sanitary towels. Sanitary towels themselves are made of up to 90% plastic and even tampons contain up to 10%. Tampon applicators are now the fifth most common source of waste washing up on UK beaches."
"For years, we have been taught that periods are not something to shout about, and that we should quietly get on with them and go about our daily business as if nothing is different," says Newton. "This has fuelled the use of conventional period products like tampons and pads. A lack of open conversation has meant that we are using products that we just don't know enough about."
Brands such as Nixit are working to change this by formulating alternative products with little or no plastic, or offering ways to cut back.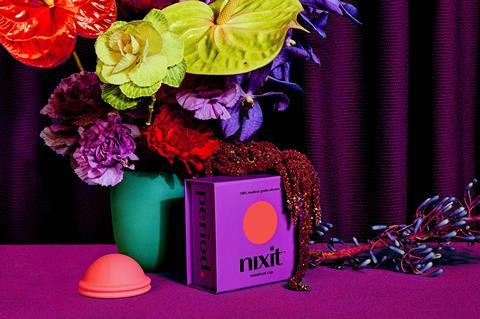 While the format may not be new, Nixit wants to 'bring the menstrual cup mainstream' and Newton believes this will resonate with consumers in a post-Blue Planet world. "As awareness around single-use plastics has increased, people want to better understand how the products they are using impact the environment," she says. As a testament to that, P&G even unveiled a Tampax-branded menstrual cup in the US at the tail-end of last year, although there's no sign of it launching here yet.
Most menstrual cups can be used for up to 12 hours before needing to be emptied – four times longer than the average tampon – and are safe to wear at night, eliminating the need for night time pads. The cups can be reused cycle after cycle and over 10 years – the lifespan of most cups including &Sisters' nüdie – can save more than 2,500 disposable products, according to the brand.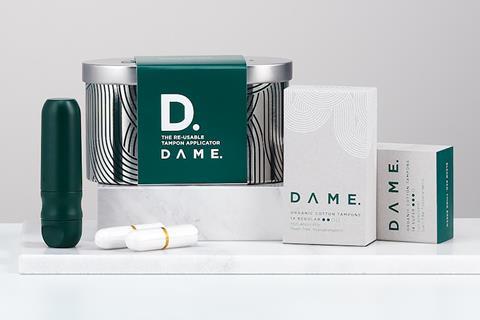 And for those who aren't ready to make the switch from tampons, Dame has created a "world first" reusable applicator, which launched in Waitrose at the beginning of the year. The brand claims to have saved 122 million pieces of single-use plastic from being thrown away since its launch, and uses only reused and recycled materials in its packaging. The applicator itself, which is made of self-sterilising Mediprene, can be sent back to the company if it is broken to be replaced and recycled. Dame is also a certified B Corporation and donates period supplies to its charity partners, which include Bloody Good Period.