Amazon says online wins the battle. But factors including refrigeration, packaging and journey type all add complexity to the food delivery model
Online shopping will save the planet. Or so says Amazon's Jeff Bezos, who late last year wrote to shareholders telling them it "consistently generates less carbon than driving to a store".
His vested interest in making the claims – at a time when Amazon was coming under increasing scrutiny over its levels of packaging – somewhat undermined the argument. But research from consultancy firm Oliver Wyman (and commissioned by Amazon) added weight to his stance in April.
Analysing the environmental impact of e-commerce versus physical retail in eight European countries, it found offline shopping resulted in close to three times more greenhouse gas emissions than online shopping. The huge fleets of delivery vans reduce car traffic by between four and nine times the amount they generate, it argued.
Still, the study looked only at three product types: fashion, books and consumer electronics. When it comes to grocery, the situation gets more complicated. Online players have long claimed it is greener, with Ocado telling its customers that "shopping with us is now greener than walking to your local supermarket" a decade ago.
But the data in food is murkier and comparisons less clear. So is pureplay online grocery any better for the environment than physical stores? Can consumer behaviour be split into one channel or the other? And what of the environmental credentials of the third contender: online orders fulfilled from physical stores?
Carbon Emissions
In the Oliver Wyman study, offline shopping was found to generate more carbon emissions due to two crucial factors. These were the energy consumption of the building (making up some 60% of a bricks & mortar retailer's CO2e emissions) and the consumer's travel to the store (responsible for 30%).
A CFC emits only 163g of CO2e per product purchased, versus an average store's 1,184g. Meanwhile, journeys from CFC to regional distribution hub and from hub to home generate a combined 360g of CO2e, versus the 596g emitted by a customer's car.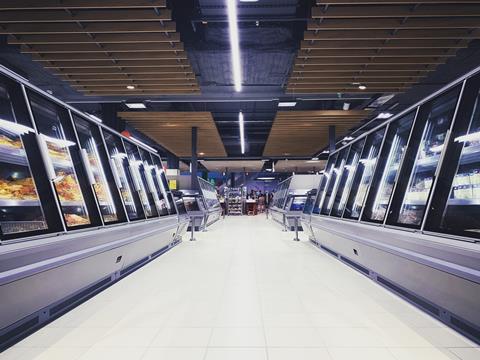 These calculations were based on non-perishable items such as clothes, books and electronics. For food, one key difference is the need to keep things chilled. This works both for and against online.
On the one hand, you have the need for refrigerated delivery. Ocado CEO Tim Steiner said late last year that transitioning the company's delivery fleet to electric vehicles was "more challenging for grocery than it is for parcels" because of the need to chill products. The limitations of "how much energy you can store in a battery" means Ocado's use of electric vehicles is so far limited to urban locations, meaning dirty diesels still pick up the bulk of the work.
"A single delivery van trip can take approximately 100 round trip care journeys off the road on average"
On the other hand, that pales in comparison with the environmental impact of keeping physical supermarkets cool. Large food shops account for 31% of energy use in UK retail, a 2019 study found, much of which is spent regulating store temperatures. Indeed, refrigeration alone accounts for close to half the national electricity usage of supermarkets, several studies have estimated – representing approximately 1.5% of the UK's electrical energy demand.
Of course, produce in CFCs must be kept at the right temperature too. But online operators can manage it at a lower environmental cost. Warehouses operate at much lower overall temperatures, which they can maintain far more easily without the issue of constantly opening and closing entry doors.
"They're so much bigger, and you've got a large door on a loading bay that's open only when it needs to be," says Alister French, partner at Oliver Wyman. "Compared to the giant volume of that warehouse, it's marginal." The energy needed for lighting and air conditioning – less intensive in CFCs – only adds to a store's pull on the National Grid.
Online has another crucial advantage: it eliminates the need for shoppers to make individual car journeys to stores. In theory, a van delivering groceries to all the houses in a street generates significantly less emissions. According to Bezos, a single delivery van trip can "take approximately 100 round trip car journeys off the road on average".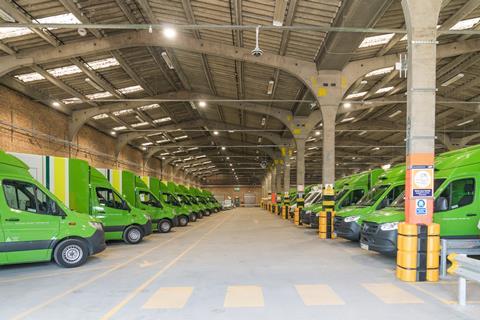 In the wider online arena, some studies have come to the opposite conclusion. A 2017 white paper by Walmart found bricks & mortar purchases had a smaller carbon footprint than delivered ones. The online channel, on average, produced more emissions per item for three main reasons: additional packaging, customers purchasing fewer items per online transaction, and multi-item orders often resulting in multiple deliveries.
A similar 2019 study by US mall owner Simon and Deloitte found mall shopping generated 60% less greenhouse gas emissions than online – on the basis that the latter generates five times more emissions from packaging and is five times more likely to result in the product being returned.
Arguably, none of those factors apply to online grocery. So on balance, there is plenty weighing in its favour. That's something Bezos has been keen to hammer home. Last year, he revealed Amazon scientists had developed a model to compare the carbon intensity of US customers ordering Whole Foods Market groceries online (which, as with Amazon Fresh in the UK, don't arrive in a chilled van) versus them driving to their nearest Whole Foods store. "The study found that, averaged across all basket sizes, online grocery deliveries generate 43% lower carbon emissions per item compared to shopping in stores," Bezos wrote.
"The logic of 'one or the other' does not apply"
This tends to assume that online and offline exist in separate worlds, though. And that couldn't be further from the truth. Consumers are often making online purchases as well as visiting physical stores. "As the vaccine rollout moves full steam ahead, consumers are getting more confident venturing back out to stores," says Fraser McKevitt, head of retail and consumer insight at Kantar. While online's share of total grocery spend has only receded slightly, he says shoppers made 58 million more visits to the supermarket in 12 weeks to May this year than the same period last year.
This behaviour muddies the waters somewhat. "The logic of 'one or the other' does not apply," says Oliver Wyman's French. Despite this, he stands by the merits of online. "The portion of shopping that consumers do online will have a lower carbon footprint than the physical portion. If my total shopping for a month is 60% physical, then I would create less emissions than if it were 100% physical."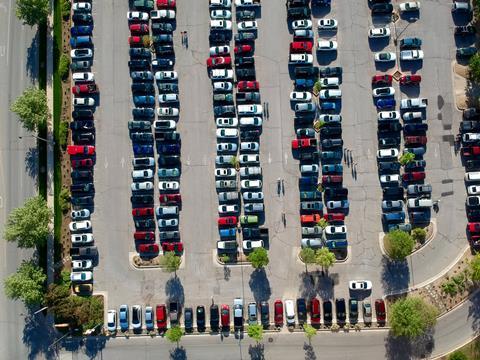 However, that does depend on the nature of the physical trips. Huge environmental gains are made if consumers 'chain' these trips – visiting multiple stores in one journey – or shop on a journey they are already making, such as on the route home from work.
And other studies have concluded that "when online shopping does not substitute traditional shopping, GHG emissions associated with individuals' overall shopping activity will likely increase". Research published last year in journal Environmental Science & Technology found that "for regions where consumers often walk or cycle to the shops, there is less or even no reduction in GHG emissions" from shopping online.
Store picking
In the online vs bricks & mortar debate, a third player is often left out of comparisons: the store pick model.
Data last month from Kantar shows the UK was the fastest adopter of online grocery during the pandemic compared with other western nations, accounting for more than a tenth of spend.
While pureplay online grocers like Ocado are serving more customers than ever, its share is still only 1.8% [Kantar]. So most Brits are buying from supermarkets with huge store estates. More than 80% of online grocery sales are estimated to now be fulfilled from stores, according to Atrato Capital research last month. The environmental impact of this model is different to pureplay retailers.
"Shopping online is already inherently more carbon efficient than going to the store"
Based on figures from Ocado and Sainsbury's, Atrato estimates that the journey time for delivery vans travelling from central CFCs – including via the 'spoke sites' – to the end customer takes between one and two hours. By comparison, store pick fulfilled journeys typically only take 25 to 45 minutes, meaning far less road time for the delivery vehicles per customer. Furthermore, vans from CFCs make on average two drops per hour, versus the four made by those carrying store-picked baskets.
The store-pick model then may well be more environmentally sound than pureplay online grocery and stores. The Environmental Science & Technology study interrogated the GHG emissions data of deliveries of 2,900 non-refrigerated Unilever products and found what it called the 'bricks and clicks' model (online orders fulfilled and delivered from a local store) generated less emissions than physical stores or pureplay online operations.
Ultimately, proving Bezos' claim that online is "inherently more carbon efficient" is not so straightforward. But such statements inspire healthy competition, and that can only help secure a healthier planet.
Is online or in-store food shopping better for the planet?
1

Currently reading

Is online or in-store food shopping better for the planet?

2