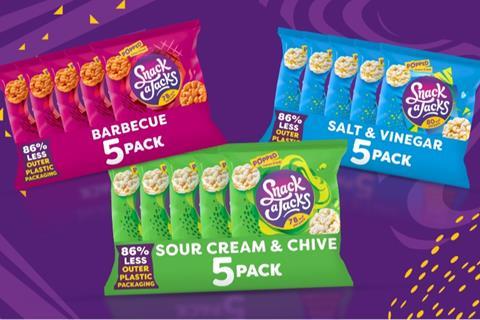 PepsiCo is trialling 'bagless' multipack packaging for Snack a Jacks in a bid to slash plastic waste.
The new multipack comprises five individual packs held together with a "tape-like strip" and uses 86% less outer plastic packaging than the old version.
Both the tape and individual packets can be recycled at flexible packaging collection points in supermarkets across the UK.
The trial packaging has rolled exclusively into Tesco, spanning three flavour variants: Salt & Vinegar, Sour Cream & Chive and Barbecue.
This is PepsiCo's third major sustainable packaging trial with Tesco in recent months. The retailer trialled cardboard boxes for Walkers crisps multipacks in 2022, and earlier this year introduced paper-based outer packaging for Walkers Baked multipacks.
The trial has been made possible by PepsiCo investing over £2m in new equipment to enhance its reduced plastic packaging capabilities in its Skelmersdale factory, where Snack a Jacks are made.
"Our new bagless multipack design is an innovative example of the solutions we're exploring to reduce virgin fossil plastic use across our portfolio," said Gareth Callan, PepsiCo UK&I packaging sustainability lead.
"We're looking forward to assessing this new format as part of our commitment to creating a world where packaging never becomes waste."
The move forms part of PepsiCo Europe's ambition to eliminate virgin fossil-based plastic in crisp and snack bags by 2030.