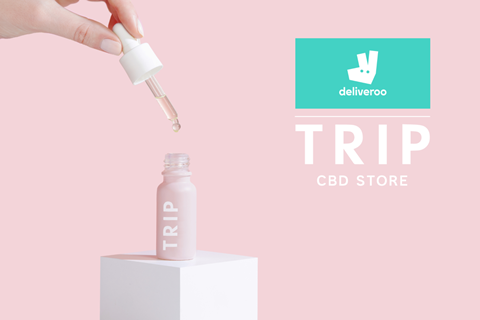 Deliveroo has partnered with CBD brand Trip to deliver the supplement to shoppers across the UK.
The deal will make Trip's portfolio of CBD-infused drinks and oils available via Deliveroo Editions sites in London, Manchester and Leeds from 20 May. It is the first time the delivery giant has listed a specialist CBD supplier.
Since lockdown began, Trip co-founder Olivia Ferdi said the band had seen a surge in demand, with its DTC sales rising 420% month on month in April.
"When people aren't feeling themselves, often anxious or stressed, there's a huge desire for immediate relief," she said.
Its trio of drinks is comprised of Cold Brew Coffee, Peach & Ginger and Elderflower & Mint, while its oils are billed as being "uniquely positioned by their use of adaptogens – natural botanical extracts that can help stabilise physiological processes in the body, as well as alleviate stress and improve both immunity and focus".
Deliveroo director of health Tom Peters said Deliveroo was "constantly looking at ways to partner with new and exciting health products in the food and drinks industry, particularly important during these times, and CBD is an exciting proposition for our customers".
It comes as Deliveroo is making massive cuts across its business amid the coronavirus crisis. It confirmed last month it planned to cut some 367 jobs across its global workforce, with 50 UK employees put on furlough.