As consumers seek lower-contact, convenient ways to buy food, the humble vending machine is going beyond snacking
Vending machines are known for their convenience. Available 24 hours a day, seven days a week, they dispense emergency snacks and fizzy drinks to bleary-eyed travellers and sugar-starved office workers at the push of a button.
What they're not known for is freshness, sophisticated product choice and healthy options. Typically, their range goes no further than cans of sugary pop, bags of crisps and stacks of calorific chocolate bars.
That's the stereotype, at least. In reality, vending has come on in leaps and bounds in recent years. Forget about spiral vendors stocked with sugar-laden fare – the latest generation of vending takes the form of smart fridges, refrigerated lockers and contactless micro markets able to dispense hundreds of chilled, ambient and frozen SKUs, many of which are healthy to boot.
That heady combination of health and convenience is inspiring grocery retailers to get in on the action.
This summer, Marks & Spencer started selling fresh sandwiches, chilled ready meals and snacks through a vending machine at one of its Simply Food stores.
Meanwhile, in Germany, Aldi Süd is testing the 'Aldimat' – a vending machine that stocks up to 30 own-label products including cheese, meats and barbecue supplies. And in the US, a growing number of retailers are replacing in-store delis and salad bars with vending machines.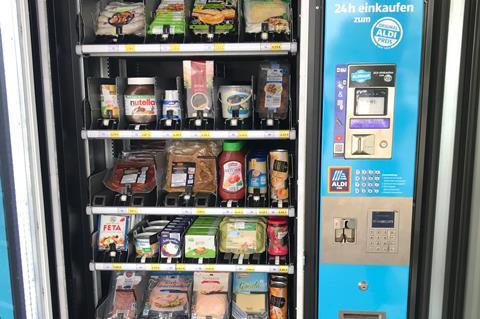 So, what's behind this sudden interest in vending? Can we expect more UK retailers to jump on the trend? And which locations would benefit most from this 24-hour format?
Covid, of course, has a lot to do with why vending is moving up retailer agendas. In the age of social distancing, the ability to purchase key supplies without having to go into a store, wear a face covering or interact with another human being has never been more relevant.
As a result, vending is becoming an attractive option for a wider range of locations than has traditionally been the case. Although high-footfall locales such as train stations and airports remain an obvious choice – albeit with considerably less footfall at the moment – superstores suddenly make a lot of sense, too.
"If you're a large Sainsbury's, Tesco or Asda and you are struggling to get people through the door because of restrictions on the number of people in store, then utilising your car parking space with a really good-quality vending solution offering grocery staples could be brilliant," says Jemima Bird, founder and CEO of Hello Finch and a former customer director at Co-op.
Similarly, vending machines located outside convenience stores that are dedicated to specific shopper missions – such as 'lunch to go' or 'dinner for tonight' – can help with crowd control at particularly busy times of day.
"We have many customers who previously only ran bricks-and-mortar stores, but in order to increase sales opportunities placed vending machines next to their shops to let consumers buy at their convenience or to alleviate the hardship of limiting customers in a store," says Lewis Zimbler, operations director at vending machine payment provider Nayax UK.
A robot salad bar
The pandemic has also boosted the case for machines inside stores. In the US, so-called robot vending machines – which assemble products instead of simply dispensing them – are being deployed by grocers that had to close down lucrative delis and salad bars in the wake of Covid.
Supermarket chain Heinen's, for example, has installed Sally. It's a salad-making robot developed by California-based startup Chowbotics, which can make fresh salads to order.
The benefits of these new-wave vending machines – namely, that they don't require staff present, offer convenience and are available to customers around the clock – are, of course, not new. But with Covid putting pressure on footfall and store staff, experts say retailers are looking at these benefits through a fresh lens and are willing to experiment more.
Zimbler says retailers are reassessing the merits of having another revenue channel that's open 24/7. "The opportunity to extend a bricks-and-mortar shop's selling hours or expand locations makes vending an enticing proposition," he adds. "And for sole proprietors, it's an easy entry point into extra earnings."
Aldi Süd's vending trial is a good example. The discounter says it's motivated mainly by a desire to offer products outside normal opening hours. "We aim to test whether we can flexibly offer our customers part of our product range after the store closing time," says a spokeswoman.
M&S, too, is stressing the role of convenience in its vending trial. "We are always looking for new ways to offer our delicious, great-quality range of M&S products to customers in convenient locations," the retailer told The Grocer at the start of its trial in August.
It makes sense. So much so that you could ask why retailers haven't done it before. But it's important to note that vending comes with its own risks. Chief among these is selling fresh items. Today's vending technology is perfectly capable of handling fresh products, but consumer perception remains a challenge. Unlike in markets such as Japan, where vending is known and trusted for freshness, the channel is still seen as "a bit shabby" in the UK, according to Bird
"You almost need to over-compensate for people's perceptions"
It's why M&S's move into vending is so significant. The retailer's reputation for freshness and premium quality has the potential to dramatically change the way the UK thinks about vending.
Consumer education will be key to this move, warns Bird. "People will be wary of not being able to touch, feel, look, so retailers will have to do a real PR job on the freshness and provenance," she says. This includes offering extra-long date codes on products sold through vending, she adds, "because you almost need to over-compensate for people's perceptions".
That view is echoed by Anouk Snelders, founder of Health Food Wall, a Dutch supplier of lockers and smart fridges that is starting to expand internationally with a focus on healthy, plant-based food. "It's so easy to lose consumer trust when selling through a new format," she says. "The freshness and quality have to be absolutely right."
Even recipe development and packaging design may need to be reconsidered, adds Snelders. Ingredients such as cabbage can stink up devices, lettuce leaves can turn soggy and packaging must be designed so consumers can see exactly what they're buying at a distance. "It's not as easy as throwing a salad in there," says Snelders.
"We sell only on visuals. The customer can only see the product in the locker and then they'll decide if they want it or not. You can't take it in your hands and look at it, so the packaging needs to tell the story."
Fulfilment
Then there's fulfilment. While vending machines can be a great, hands-off option for locations that aren't staffed around the clock, devices with more extensive offerings – especially ones outside retail stores – will require frequent replenishment and, potentially, dedicated warehousing solutions. "Vending doesn't necessarily reduce headcount," says Bird. "Retailers shouldn't underestimate: having a great vending solution will require a fulfilment that is going to require certain staffing levels."
Making customers feel safe in the current climate is another challenge. Vending machines have the potential to help with social distancing and crowd management in stores, but the devices need to look and feel Covid-proof too. Contactless payment technology plays a big part here and is already being rolled out more widely, but many vending machines still use buttons and touch screens for product selection – not a great proposition in the coronavirus era. Consumers may also need extra reassurance on how products were handled before they were put into the vending machine.
"Vending doesn't necessarily reduce headcount"
Regular cleaning schedules, as well as wipes and disinfectant sprays at vending devices, can help. But many operators believe touch-free technology – where shoppers can select, buy and pay for products using an app on their smartphones – will be critical for instilling confidence in the current climate.
"Touch-free vending is something that companies are working on to ensure that consumers are more comfortable buying from a machine without having to touch any surface," says Zimbler at Nayax, which is about to add touch-free product selection to its own payment app.
Touch-free
Jeff Veres, international programme manager at micro market provider 365 Retail Markets, tells a similar story. His company recently launched a touchless checkout kiosk. "All of us in food and drink are having to adapt to meet the consumer where they're most comfortable," he says. "That's the big thing consumers want now more than ever: they want to feel comfortable and empowered when they're making their buying decisions and going through that payment experience."
Despite these challenges, there's good reason to believe more retailers will try out vending in the coming months. "I think it will be really important that we're offering unmanned concepts so people can consume healthy stuff or fresh stuff whenever they want, without contact," says Snelders at Health Food Wall. "It's something we're hearing from everyone we're having contact with at the moment: unmanned or semi-unmanned concepts will be a large part of the future."
Bird, too, believes Covid could create a tipping point in retailers' attitudes to vending, not least because it could enable stronger, more meaningful relationships with shoppers. "Once you have customers interacting with vending machines via apps, there are huge opportunities to have a digital relationship in a high street environment," she says.
With the need to offer convenient, contact-free shopping options not going anywhere, this really could be the moment that vending finally becomes as popular in the UK as it is in other parts of the world.
Three healthy takes on vending machines from around the world
The instant smoothie maker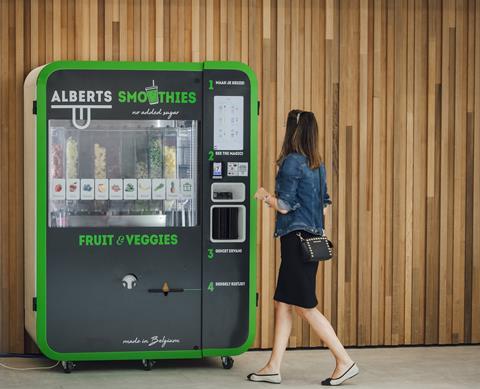 Alberts smoothie robot, Belgium
A fresh smoothie, made to a recipe of your choice, available 24/7: that's the proposition of the world's first fully automated smoothie robot, developed by Alberts.
The machines are stocked with a variety of frozen fruit & veg, crushed and blended with water for each order. Customers can choose from pre-programmed recipes or create their own. Orders are placed through Alberts' mobile app and touchless payments are taken via NFC technology.
Seven smoothie robots are currently deployed and the machines are due to launch at two retail locations in the EU soon. Alberts says it has also "started talking to several parties in the UK market about preparing a rollout".
The salad-making robot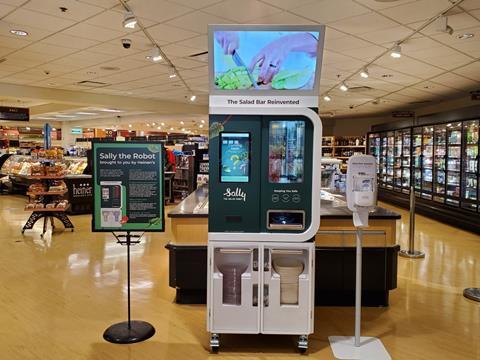 Sally by Chowbotics, US
Sally is a compact salad-making robot containing 22 ingredients that can be combined to create fresh, seasonal salads and bowls.
The concept initially took off at hospitals and university campuses but in the wake of Covid has seen strong growth in grocery stores, where it's replaced salad bars that were shut down over hygiene concerns. The robot also feeds back data so operators can optimise menus, while app-based ordering is launching soon.
Sally isn't currently in the UK, but Chowbotics has a partnership with French veg company Bonduelle and several robots in France.
The refrigerated lockers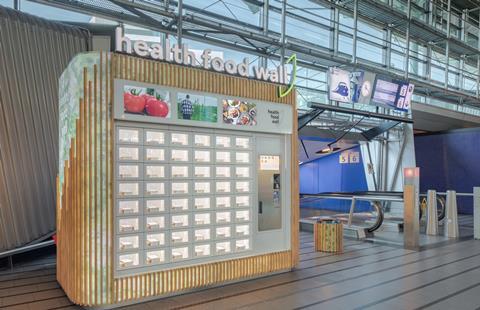 Health Food Wall, Netherlands
Dietitian and vegetarian chef Anouk Snelders was so frustrated with the lack of convenient, healthy options available on the go that she decided to create Health Food Wall – a system of unmanned, refrigerated lockers that stock everything from breakfast pots to ready meals.
The idea started as a pop-up in Amsterdam in 2018 and quickly expanded to Schiphol Airport, exhibition centres and hospitals. More recently, the company has worked on adding 'smart fridges' to its lineup to offer healthy products at locations with less space available.
It's also reporting growing interest from food producers and coffee companies, and is starting to expand internationally.
Vending in the workplace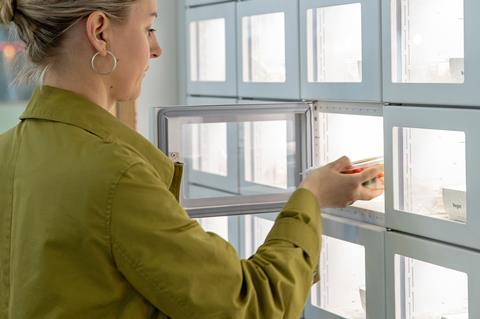 Coronavirus has wreaked havoc on the food-to-go sector. The move to remote working saw sales collapse virtually overnight. And even as some workers return to offices, many have fallen out of the habit of buying lunches on the high street, or prefer not to leave their premises.
Some experts believe vending could present an opportunity to make up for that lost footfall. By installing machines in the workplace, employees can get their food-to-go fix at the touch of a button, rather than visiting stores.
"Employers are going to try to create environments where their staff don't have to leave once they get there for the work day," says Jeff Veres, international programme manager at micro markets operator 365 Retail Markets. "We're getting a lot more interest from companies looking to move away from the traditional catering sector and looking into unattended retail solutions that are more affordable and easier to manage."
Employers will want to offer a solid fresh food range that employees recognise and trust, meaning well-known high street brands could be the perfect fit. "I think it's a matter of time before you see someone like a Pret or a Costa wanting to entertain how they can supply their fresh food into these workplaces," predicts Veres.
Jemima Bird, founder and CEO of Hello Finch, also sees potential for high street brands to expand into vending in the workplace. "Lots of brands will be looking at a digital-first strategy to replace the footfall they won't get into their stores," she says.
Brands such as Costa, which already have an established vending offer for their coffee, are in a particularly good position to make the leap, adds Bird. She suggests they could start by making snacks that are currently sold at the till available to buy through their coffee vending machines.
Other brands could also benefit from using coffee as a launch platform into vending, says Bird. "If I were Pret, I would definitely do it and I would base it around coffee being a good starting point."