In every retail conference, tech emerges as a key theme. This week's Shoptalk Europe was no exception, with robot picking, live streaming and customer data all becoming hot topics of conversation. Here are our five key moments from the event.
1. TikTok outlined the $7.4bn UK live streaming opportunity
OK, so the UK opportunity is nowhere near as big as in China – where the live shopping market is estimated to be worth $500bn this year. But the home market is growing and worthy of note, argued Patrick Nommensen, head of e-commerce operations at TikTok Shop – the live shopping arm of TikTok. The size of the UK opportunity is set to reach $7.3bn by 2023, he pointed out. And the format offers several benefits for brands.
"The reason it's so important is it facilitates this accelerated conversion," Nommensen told Shoptalk Europe. Live shopping viewers will regularly purchase a product just seconds after seeing it for the first time, he explained. "Users can interact, engage, ask their questions, see what the product is – it's a very personal experience."
But this opportunity came with words of warning. Despite the name and premise, "right now, users aren't coming to TikTok to purchase", Nommensen said. Instead, they're "coming to be entertained, educated, inspired". So hard sales pitches are unlikely to hit the mark.
2. A Norwegian retailer put Ocado in the shade
Few people in the UK will have heard of Oda, Norway's biggest pureplay online grocer. In its home market, though, it's a force to be reckoned with. With 70% online grocery share, Oda is used by so many households that the average driving time between customers is just three minutes.
It's achieved this dominance through a mix of factors. First, it's beat even Ocado on the technology front. While Ocado has only just reached a pick rate of 200 units per hour (uph) in its CFCs, Oda has been doing this for a year-and-a-half, says founder and CEO Karl Munthe-Kaas.
Second, it's beats even the discounters on price. "We're still tracking behind on price perceptions, but that's going to be a continuous source of more growth as people realise we're cheaper than the discounters," Munthe-Kaas explains. For him, it's about taking online grocery beyond an "upper middle class family phenomenon" to become a mainstream proposition.
Finally, it attracts large orders, with an average basket size of over €100. Munthe-Kaas firmly believes online grocery can be more cost-effective than offline if it achieves three key metrics: a pick rate of 200uph, five drops per hour, and a basket size of €100 or more. It's now broadening its reach into Finland and Germany.
3. Getir revealed it's shunning automation (for now)
While most major supermarkets are trying to automate their way to faster online deliveries, the fastest of them all is going the opposite way.
Getir revealed that its grocery deliveries – which aim to arrive within 10 minutes – will be done by hand for the foreseeable future. Why? Because most automated solutions are designed for large warehouses and are therefore unsuitable for the rapid grocer's small urban dark stores, said Turancan Salur, Getir's European regional manager. Plus, given its sites are already designed to maximise picking efficiency, the expensive technologies are simply not worth it for now.
While Salur is confident automation will happen within a few years, only once the costs fall will it become worthwhile.
In the meantime, Salur says Getir will continue to sell the most valuable commodity of all. "We're giving people back time," he said. "Speed is what we're selling."
4. PepsiCo talked us through its Ocado-style warehouses
Ocado has earned plenty of column inches with its grid-style, robot-powered warehouses. Yet at Shoptalk Europe, it emerged a more unlikely player was using a similar system: PepsiCo.
Not in the UK, mind. This particular innovation is confined to the US, where the fmcg giant has run a DTC operation since 2020. To speed up the picking process, PepsiCo partnered with robotic warehouse specialist Autostore (pictured), revealed Anna Farberov, GM of PepsiCo Labs – the company's innovation division.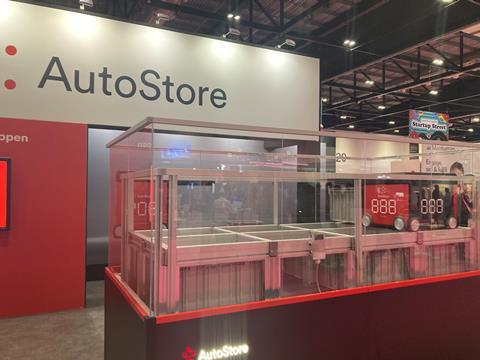 "Autostore developed this magical cube, which allows us to store up to four times more products than a warehouse of same size. And robots pick products, which allows us to be faster," she explained.
In the space of a year, PepsiCo set up its first such site just outside Dallas. The business is now looking at "scaling nationally until we reach the whole of the US", Farberov revealed.
5. M&S unveiled its 'bullseye' strategy
"Customer data is going to be the reason retailers succeed or fail," Alex Williams, M&S head of growth and personalisation told Shoptalk delegates. And M&S is determined to be a success.
Through its Sparks loyalty card, M&S has amassed a goldmine of customer insights, with half its 30 million customers now on the scheme. The aim now is to use that data to personalise every single one of the retailer's five billion annual customer interactions across online (two billion), marketing (two billion), and in-store (one billion). So far, it's managed 500 million, leaving 90% to go.
To help it scale, M&S has launched a new internal function called 'bullseye' that collates all customer data into a single, cloud-based application, from where it is analysed and interpreted to give the most valuable personalised service to the customer. This allows M&S to determine whether a personalised offer, a piece of targeted marketing, or perhaps an in-store freebie is best for that individual.
"M&S is a traditional company so most people don't think of us as trying to solve these problems," said Williams. "So now we'd like to prove them wrong."