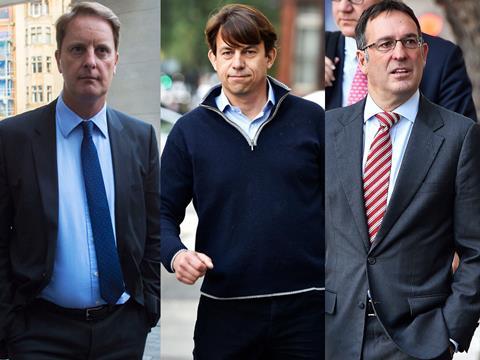 Tesco employees repeatedly tried to talk three former executives out of a desperate chase to hit profit targets, after the process "spiralled out of control", a court has been told.

The prosecution at Southwark Crown Court yesterday claimed the three defendants were "fully aware" they were damaging the business by "conniving and manipulating" the figures in a scandal that wiped £2bn off the supermarket's total share value.

Carl Rogberg, 50, Chris Bush, 51, and John Scouler, 49, are alleged to have failed to correct inaccurately recorded income figures that were published to auditors, other employees and the wider market.
The court heard that by July 2014 Tesco employees had made several attempts to highlight "unrealistic targets", which were kept in place despite the fact the hole in the accounts was "spiralling out of control".

Prosecutor Sasha Wass said: "Attempts to persuade them to lower the targets had been unsuccessful and the defendants carried on conniving and manipulating the figures by incorrectly encouraging others to pull forward income, and these defendants must have been fully aware of the damaging effect this practice was having on the financial health of the company and, more particularly, its shareholders."

Wass said employees described the run-up to the posting of Tesco's half-year results, known every year as "diving for the line", as "frenetic" in August 2014.

She likened the defendants to "hamsters running around a wheel" as they tried to plug the hole in the accounts.

The prosecution alleged Rogberg was reduced to telling "bare-faced lies" to deny a shortfall, "fronting the matter out" when challenged.

Wass added: "What is interesting in this case is that, you will see in due course, that the false figures put out in August suggested that the half-year profit was posted to be in the region of £1.1bn, just keeping it within that level to prevent Tesco being downgraded to 'non-investment grade', and it is those figures that the prosecution suggest are false."

The supermarket's former finance chief, managing director and food commercial head, who are charged with fraud by abuse of position and false accounting between February and September 2014, were investigated after Tesco was found to have inflated its profits.

A public announcement to the stock market on September 22, 2014, which stated that it had previously over-estimated its profits by approximately £250m, sent "shockwaves" through the market, Southwark Crown Court in London heard.

The jury was told the practice of bringing forward income from the future to artificially inflate the figures of the present "was contrary to proper accounting standards and principles".

Wass said: "Terms such as 'pull forward' and 'legacy challenge' were Tesco's internal jargon, used by those in the know, to describe the falsification of figures and the problems this created."

Rogberg, of Chiselhampton, Oxfordshire, Bush, of High Wycombe, Buckinghamshire, and Scouler, of St Albans, Hertfordshire, all deny the charges.