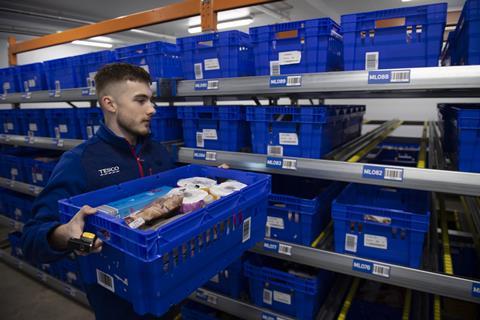 Tesco is to launch an online marketplace that will give customers the ability to shop "a broad range of third-party products" alongside groceries on the supermarket's website.
The retailer is understood to have been working on the technology underpinning the marketplace for the past two years. It is now building a team that will be responsible for recruiting sellers and working with them on "range, merchandising and promotional strategies".
For customers, third-party seller products will be available "seamlessly" alongside their "core grocery basket" on Tesco.com.
The supermarket is currently recruiting for a marketplace business development manager, who will manage the seller cohort and develop a "compelling range proposition". Sellers will be prioritised using a "data-driven approach".
A job listing for the role says the marketplace is a "key pillar" of Tesco's strategy to be 'easily the most convenient' grocer – a strategy set out in late 2021 to serve customers "wherever, whenever and however they want to be served", with online playing a major role.
The Grocer understands the marketplace will offer a broad range of categories with a focus on petfood, health & beauty and alcohol. The marketplace will offer larger pack sizes than are available in stores. It is understood the marketplace will launch as soon as the start of next year, with brands that already sell in Tesco stores as well as unlisted challenger brands. Those brands on the marketplace will fulfil orders directly to customers' doors.
Tesco would not confirm or deny the marketplace launch, saying only that it was in ongoing discussions with suppliers to build out its online proposition.
The marketplace model is not a new one to Tesco, which in 2012 opened up its non-grocery offering Tesco Direct to third-party sellers. Tesco Direct ceased trading in July 2018, with the company saying there was no prospect of the loss-making concern becoming profitable. Along with hundreds of job losses, its closure saw around 300 merchants lose a small but solid sales channel.
"In a nutshell, they tried to take on Amazon in a category they are not known for – non-food items – with an inferior customer experience and without a sustainable logistics infrastructure," said Paul Adams, CEO of marketplace services platform Tambo.
Analysts argued Tesco Direct was too protectionist when it came to the sellers it would accept, with overcaution about listing products that might compete with its own. But Adams believes a second shot by the retailer could prove more successful.
"Adding a marketplace to Tesco.com would be a natural progression to their online service offering and would follow the lead of other EU and US grocery providers," he said. "The failure of Tesco Direct will still be fresh in their memory. This time round they should take a leaf out of Walmart's playbook and fully integrate the marketplace into their omnichannel experience, thus giving them a competitive advantage over Amazon.
"It is a positive development that will drive more sales and bring more traffic into Tesco.com that they can turn into advertising revenue," Adams added.
More recently Tesco launched an online marketplace – Tesco Exchange – which allows suppliers to cut costs and reduce food waste by selling or donating surplus stock to other manufacturers. The service, which launched in November, is available to more than 3,500 Tesco suppliers. However, no direct sales are made on the platform, with arrangements made between buying and selling parties privately.
Other supermarkets and retailers have launched marketplace models, among them M&S, Walmart, Carrefour, Kroger, Boots, Superdrug and The Range. In some cases the retailer will work with sellers spanning the full range of categories, while others restrict third party dealings to homeware and fashion.