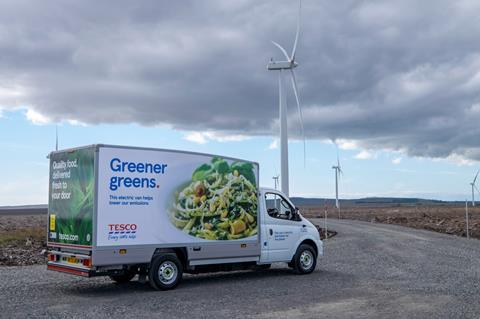 The Tesco pension scheme and retirement savings plan arms of the business have committed to a net zero target by 2050.
This means the retailer and the trustees of the two pension schemes will review their investment decisions to align them with more environmentally-conscious opportunities.
The two retirement schemes have over 345,000 members and more than £24bn in assets.
Tesco said those involved in the programmes will encourage the companies they invest in to reduce their carbon emissions and set up their own targets to fight climate change.
"Evidence shows that environmentally responsible, well-run companies are likely to perform better in the long term, and better performing companies tend to be better investments," said Tesco Pension Fund chair, Ruston Smith.
"By investing responsibly, we can continue to deliver on our top priority of helping members' money grow as much as possible and align our investments more closely to what we believe is important to Tesco colleagues."
In a recent survey, Tesco staff identified responsible investment choices that contributed to tackling climate change as a key priority for them.
The company has partnered with online platform Tumelo to provide members of the Tesco retirement savings plan with information on which companies are being invested in and allow them to voice their own opinions.
Tesco is also part of the Make my Money Matter Green Pensions Charter, which has called on the pensions industry to agree net zero targets for all investments by 2050.
Make my Money Matter co-founder Richard Curtis said: "Our pensions are powerful. While they're securing healthy returns for us, they can also secure a better future for the planet.
"It's brilliant that Tesco has taken further critical steps to ensure their staff have pensions to be proud of."
The move follows the grocer's announcement that it was aiming to hit net zero emissions across its entire value chain by 2050.