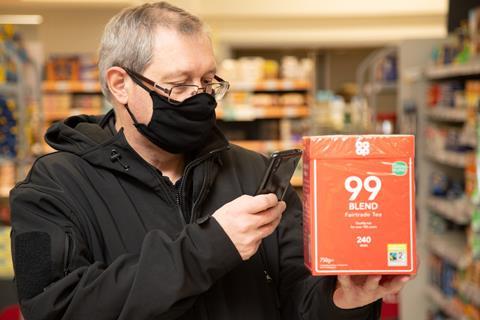 Central England Co-op is trialling a scan, pay and go app at its Spies Lane store in Halesowen.
Shoppers heading to the West Midlands store will be prompted to download the app – created by Ubamarket – which they can use to scan items as they put them in their basket, and pay within the app. Users must scan a QR code on entry to start shopping.
The society said it meant customers could complete a shop "without ever needing to queue or stop at a checkout".
"Recent times have really showed us all the benefits of being able to shop local with a trusted, community-focused retailer and this trial is another great extension of that way of thinking and how we, as a society, are always trying to come up with more ways to improve the shopping experience for our customers and members," said the store's manager Jessica Head.
"We are all really excited about the launch of the scan and go trial and look forward to showing customers how it works," she added. "We are delighted to be able to help make shopping as easy and convenient as possible for customers."
The trial will run until early 2021 and, if successful, the app will be rolled out across all the retailer's 262 locations across 16 counties.
The Ubamarket made app has been adopted by a number of Spar, Budgens and Londis stores.
There are other features available to retailers that commission the app, such as the ability for customers to check stock levels in advance of their shop – through back-end integration with existing EPoS and SKU systems – and to be guided around the store with an "aisle sat-nav".
"Leap-frogging tills and self-checkout units by effectively putting the till in the customers' hands means that Central England Co-op shoppers will have the world's most sophisticated retail app in the palm of their hands," said Ubamarket CEO Will Broome.
Ubamarket this month formed a partnership with payment gateway provider, Worldpay from FIS, to power in-app payments.
In September, Central England Co-op began a trial with Snappy Shopper at its Derby and Birmingham stores to offer its customers a within-the-hour delivery service.
Shoppers choose items using the app from home, which are then picked and packed at the nearest store by Co-op staff before being delivered in an electric vehicle.
The trials were part of Central England Co-op's ongoing effort "to make the shopping experience easier, quicker and safer for people, something which is becoming more important during these uncertain times" the retailer said.