It's SOS time for dairy snacks – Save Our Snacks! People are making fewer packed lunches and dairy's share of the lunchbox is falling as consumers turn to alternatives such as fruit.
In the four months to 31 March, cheese appeared in 28.3 million fewer lunchboxes, a decline of 13.9% year on year [Kantar Worldpanel 16 w/e 31 March 2014]; consumers put cheese in their sandwiches on 23.8 million (14.4%) fewer occasions; and yoghurts appeared in 24.6% fewer lunchboxes. Why?
Part of the challenge for dairy snacking brands is that the lunchbox itself is becoming less popular. After five years of growth, lunchbox occasions have fallen by 11% to 623 million, partly as the result of improved consumer confidence. "We saw a lot of consumers starting to use packed lunches to save money when times were tight, but we also know that consumers put 'eating out' at the top of the list of things they would do if they had more money," says Kantar analyst Lucy Burton.
But dairy snacks' share of this falling number of packed lunch occasions is also falling, as shoppers increasingly opt for items such as fruit, salad and meat. This is partly down to concerns over satfat, and the industry admits it needs to do more to communicate positive messages about nutrition.
"There's been a double whammy, where what parents put in lunchboxes is under more scrutiny – and their perception is that cheese is a fat. At the same time cheese products have not been advertised as much as historically, so there is no positive spin," says Mike Harper, director of brands at Adams Foods, the owner of Pilgrims Choice and Mu. "We need to focus more resources on communications about kids' snacking products. Fat, yes, but protein and calcium, which is important to growing kids."
Some brands – such as Cheestrings and Cathedral City – are already doing this. Arla Foods goes further, adding key vitamins to cheese snacks. Senior brand manager Kate Richards also thinks cheesemakers could capitalise on concerns about sugar.
Such a message could potentially tie in nicely with the growing popularity of fruit in UK lunchboxes: as cheese's share of the lunchbox has fallen, fruit's has risen by 12% over the yearn [Kantar]. "Cheese neutralises acidity in the mouth so is great as a post-lunch snack," says Richards. "This message is not currently being activated for cheese snacks and presents yet more reasons for including more cheese within our diets."
Despite the overall cheese snacking sector having a harder time, some brands have bucked the trend, with sector leader Mini Babybel growing by 4.3% in value and 1.8% in volume [Nielsen 52 w/e 21 June 2014], partly as a result of marketing activity explicitly targeting the kids lunchbox market and the March introduction of a variety pack aimed at parents with packed lunches in mind.
Kerry Foods' Cheestrings also claims to be bucking the overall decline in cheese snack products thanks partly to the brand's Brave Bones campaign, including TV ads, focusing on the health benefits of the product's calcium content.
Squeeze on yoghurts
Elsewhere in the lunchbox, snacking yoghurts have felt the squeeze. More adult-skewed than cheese snacks, yoghurts feature in only 7% of children's lunchboxes, compared with 11% for men and 15% for women.
Yoghurt brands hope to bounce back through innovation with new flavours and new formats. "There is definitely room to innovate within the snacking market by utilising singles, for example," says Michael Inpong, Müller Dairy marketing and R&D director.
Yoplait, too, emphasises innovation and has been encouraging new uses of its established products: it recommends freezing Frubes yoghurts as an alternative to ice cream and using Petits Filous to create milkshakes.
Meanwhile, Kerry Foods is hoping to reinvigorate the snacking yoghurt sector with the launch of Yollies – its new yoghurt on a stick format.
"Has anybody created the correct format, the correct place for adult cheese snacking? Probably not"
When it comes to creating new attractive options for adults, however, cheese and yoghurt brands continue to have their work cut out. With adult dairy snacks accounting for just 7% of total cheese snacking – a sector worth £195m – and adult lunchboxes also in decline, brands are focusing on encouraging snacking through the day.
"We're looking at more opportunities during the day, with snacks not being shackled to the lunchbox but also as something for between meals, different occasions such as mid-afternoon, or in front of TV in the evening with a glass of wine," says Lee Willett, marketing controller of dairy at Kerry Foods, whose Low Low snack packs launched in September 2013, aimed mainly at urban women.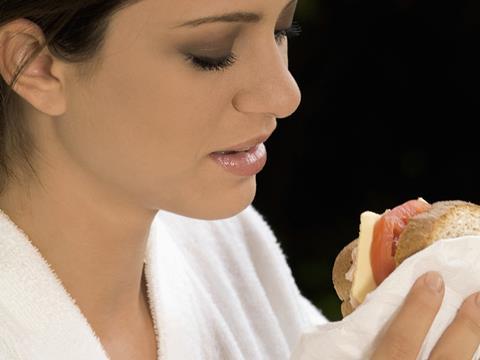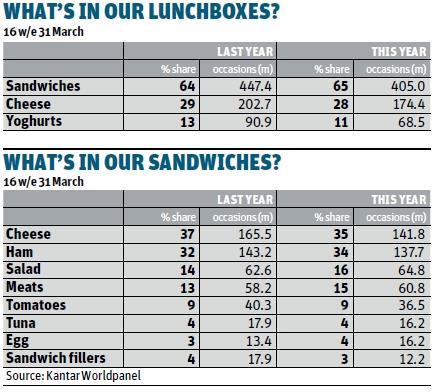 There could even be a role for cheese snacks at breakfast, for children as well as adults. Arla Foods' Richards says there is an opportunity to push a "fuller for longer" message that cheese snacks at breakfast can enhance calcium intake, helping to keep you full until lunch.
Merchandising, as well as stimulating demand, remains a major headache. "Has anybody created the correct format, the correct place for distribution for adult cheese snacking? Probably not," says Harper at Adams Foods. "The fundamental problem with adult snacking is where it's ranged – next to kids' products – and they are very similar."
One merchandising option being increasingly explored by retailers and suppliers is the pick-and-mix concept.
Merchandising
Earlier this year, Tesco and Yeo Valley launched a trial of pick-and-mix "yoghurt bars" in 160 stores where shoppers can create their own snacking yoghurts with a variety of toppings, compotes and sauces.
In a similar vein, Adams Foods has launched its Pick n Mix range of flavoured cheeses into Tesco – 80g sticks of six flavours from which shoppers can mix three for £3. The product is ranged next to Adams Foods' core brand, Pilgrims Choice.
And as part of an ongoing initiative with the Low Low brand, Kerry Foods is trying to stimulate "plus-one" shopping by encouraging consumers to buy a cheese snack when they buy block cheese with point of sale material.
"Cheese products have not been advertised as much as historically so there is no positive spin"
More generally, taking advantage of the changing seasons remains important to the lunchbox sector, and several dairy brands now offer special flavours and standout packaging for Christmas, Halloween, summer and 'back to school.'
This year, though, 'back to school' presents a big new challenge thanks to the Children and Families Act 2014, which obliges state-funded schools in England to offer a free lunch to all pupils aged under seven.
"We're still not entirely sure what will be the impact of the free school meal initiative, which is why this business is a little hard to predict right now," says Richard Williams, marketing director of Yoplait UK & Eire.
Harper cites Kantar data showing that if all kids took up the free lunch offer and stopped packing their own, it would amount to a £52m loss to the cheese industry.
That's the worst-case scenario, of course, and brands are determined to avoid it. But it's clear that despite NPD and attempts to create new snacking occasions, the battle to Save Our Snacks could well get a lot tougher yet.