Steve Hook believes raw milk can be a valuable addition to dairy portfolios that will help revitalise rural economies. But will the Food Standards Agency come on side?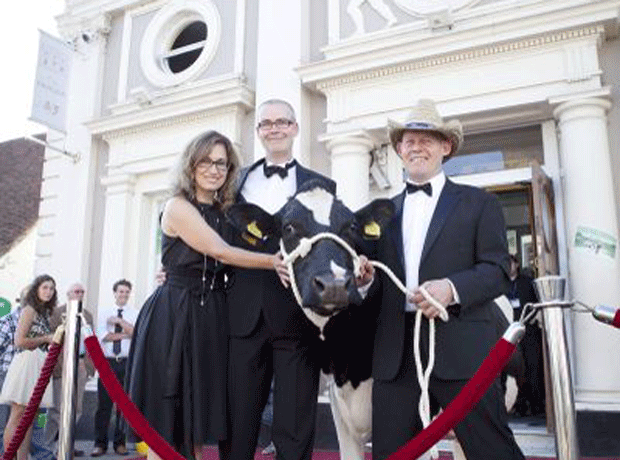 Dairy farmer. Brand manager. Visionary. Radical. Film star. Moo Man.
There are many ways to describe Steve Hook, the enterprising dairy farmer from East Sussex who has spent the past six years championing the unpasteurised (or raw) milk movement in the UK, and recently became the star of the Moo Man film - a documentary that was shown at the Sundance Film Festival and in cinemas around the country this summer.
But that list of descriptors very nearly also included 'criminal'. Unimpressed by Hook's idea of selling raw milk through a vending machine in Selfridges, the Food Standards Agency (FSA) mounted a Landmark food hygiene case against him earlier this year, dropping it only at the eleventh hour because Hook agreed to stop using his vending machine until the results of an FSA consultation on raw milk are in. Four months on, that consultation still hasn't launched, leaving the UK's raw milk industry - and Hook, the biggest seller of unpasteurised milk - in limbo. So what's next for the raw movement's poster boy?
Notwithstanding the FSA consultation, Hook says his primary focus remains the same: to add as much value as possible to his milk - and pasteurisation, or lack thereof, is just one part in his premiumisation plan. As well as being raw, Hook's milk is certified organic, and he is now in the process of converting the majority of his 72-strong herd to produce A2 milk, a newly emerging market for consumers whose lactose intolerance is based on an inability to digest A1 protein - giving his milk a third point of difference.
The potential to add value through such differentiation is already plain to see in Hook's raw milk prices. When he sells his organic raw milk at the farmgate and through local doorstep delivery (one of the few ways farmers in England, Wales and Northern Ireland are allowed to sell raw milk, see box), he typically does so for 90p a pint - roughly five times more than the 32ppl his peers who supply conventional pasteurised milk receive.
Despite the hefty premium, Hook says he's shifting 4,000 pints a week and has built up a sizeable group of customers who buy raw milk for a plethora of reasons - from those who believe it can reduce eczema, hayfever and asthma to those who buy it for culinary purposes. With A2 soon to be added to the mix, the potential to add value will only increase, believes Hook. The "ultimate" milk, he says, is raw, organic, A2, grass-fed - something that is not currently available in the UK. "That is niche niche, but then niche niche is top-end value, and that's where I want to be."
But the premium Hook receives hasn't stopped him from making the case for raw milk on behalf of the wider industry. He sees his business as the "brand leader for raw milk", and as such believes he has a responsibility to drive raw milk forward. "I sense that there are some people out there who'd be happy to see us fall, so we just cannot afford to crash," he adds.
Raw milk rules
The only way raw cow's milk is allowed to be sold in England, Wales and Northern Ireland is direct from farmer to consumer. This can take the form of on-farm selling, through a farmers' market, a milk round or as part of a farm catering operation. In Scotland, the sale of raw milk is banned completely.
Where raw milk is sold, it must be labelled to inform consumers that it has not been pasteurised and may contain organisms that are harmful to health.
Cheese made from raw milk must be labelled as being 'made with raw milk' or 'made with unpasteurised milk', but can be sold more widely because production processes - such as salting, acidification and maturation - should reduce the risk from pathogens, according to the Food Standards Agency.
Farms that sell raw cows milk direct to consumers are inspected more frequently than those that produce pasteurised milk only.
Food safety concerns - especially the risk of listeria outbreaks - are the most common reason opponents want to see raw milk banned, which is why Hook has developed his own bespoke milk testing regime, which goes over and above the minimum legal requirements. He tests for the main pathogens (including listeria, e.coli, salmonella and staphycocosorius) once a week, whereas the FSA conducts twice yearly inspections and tests quarterly to check for compliance with microbiological standards.
Hook now wants to share his food safety expertise with other farmers to help the raw milk industry grow. But first, he must overcome the thorny issue of the vending machine, which would allow farmers to cater to a much wider market than is currently possible and also boost rural economies.
"It means that a farmer who's struggling in Cumbria who hasn't got a roadside presence, hasn't got a population on his doorstep, hasn't got a route to market and can't add value to his product, could put his own vending machine in the village shop," says Hook.
He thought the model he developed for Selfridges ticked all the right boxes to comply with current regulations. Hook owned the vending machine, rented the floor space from Selfridges and received the sales proceeds, thus making him, in effect, the retailer. The FSA disagreed, but Hook remains hopeful he will be able to bring the regulator on side.
Having been raised on a dairy farm, the health of rural communities is an issue close to Hook's heart. That's why he hopes Moo Man will prompt people to consider buying raw milk. "In the wake of the horsemeat scandal, the timing is great because up until that point I think people would walk into a supermarket and not question what the food that's on the shelves is," he says.
The film has raised his profile, but Hook is taking his new status as a global film star in his stride: "It's lovely. It doesn't change anything, though. I'll still milk cows. They're the divas really."