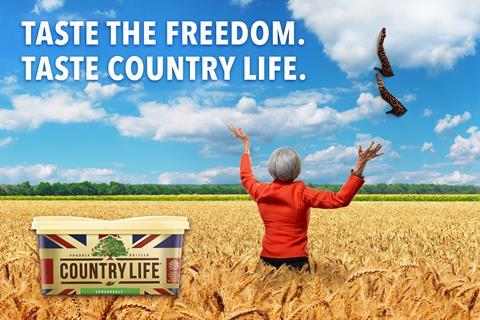 Forget the other B-word. It was butter that caused a stir in Westminster when Theresa May stepped down in July. 'Taste the freedom. Taste the Country Life' shouted the brand's billboard, which showed the long-suffering PM up to her waist in a field of wheat, kicking off her kitten heels and reliving her naughtiest moment.
The tongue-in-cheek ad joins a long line of playful butter and spread campaigns to have graced our screens over the years. To celebrate our upcoming special, The Dairymen we're sharing 10 of the most memorable.
1. No Buts – It's Got To Be Butter

In this series of ads from the 1980s, various anthropomorphised foods – such as bread, sandwich fillings and a regiment of paratrooping potatoes – ruminate over what is likely to be spread on them when the time comes. Striking up a rousing chant of 'no buts – it's got to be butter', they express horror at the idea that it might be anything other than the real thing. Being eaten alive seems to be the least of their worries.
2. A Taste of a Perfect World, Clover

If you're having one of those days, God forbid you have to worry about the spreadability of your butter. That's what Clover aimed to convey in this 1990s ad, in which a woman rips her stockings and smashes a glass as she rushes to get ready for work. But not everything goes wrong – thanks to Clover, she's still able to tuck into a breakfast of bread and butter, despite the spread being in the fridge all night.
3. John Lydon for Country Life
Former Sex Pistols frontman John Lydon has praised the 'anarchistic ideology' of Country Life, which approached him more than a decade ago to promote its British butter. From the monarchy to the dairy industry to Johnny Rotten himself, the ad is a celebration of British institutions, and despite being called a sell-out for his part in the campaign – the legendary punk has admitted it paid for his band Public Image Ltd to reform – Lydon certainly made the ad one of the industry's most iconic.
4. Douglas, Lurpak
In the late 1980s, Lurpak won the nation's hearts with the introduction of its buttery poster boy, Douglas. The Aardman-animated character appeared in many guises – from a motorcycle-riding rocker to an Olympic hopeful – but is perhaps most famous for starring in a string of ads voiced by Penelope Keith. Keith was tasked with conveying the quality and sophistication of the Danish butter brand while staying in control of a misbehaving Douglas, who had a penchant for playing the trombone. An unconventional but entertaining double act.
5. Anchor's cows
Anchor celebrated its 125th anniversary in 2011 by throwing a party – or rather its cows did. The ad saw a herd don party hats and set up a bovine bash, complete with a dancefloor, cow-eoke and enormous cake (made with Anchor butter, of course). The cows appeared in another campaign a year later, in which they swapped their party hats for hairnets and got to work in the dairy, producing the butter and shipping it off to stores.
6. Singing sun and sunflowers, Vitalite
You won't be able to hear 'The Israelites' in the same way again after watching one of Vitalite's catchy ads. Aired throughout the 1990s, the comical campaign featured a smooth-voiced sun and a chorus of sunflowers singing about the benefits of the spread, to the tune of the Desmond Dekker classic.
7. The Buttermen, Country Life

Also in fine voice were Country Life's jolly band of Buttermen, who appeared on screens in the 1980s. With thick West Country accents and a fondness for beer, picnics and chasing girls at the village fete, the foursome would sing shanties about their beloved Country Life. The ad is complete with the tongue-twisting refrain, 'you'll never put a better bit of butter on your knife'.
8. Kerrygold
Ask any household in Ireland and they'll likely remember – and be able to quote – this pair of classic Kerrygold ads, which both feature a saucy French love interest and some strange butter-fuelled sexual tension. First we visit an Irish fishing village, where a woman is preparing dinner for her family and two French fishermen. 'There is something I can 'elp?' one of them asks. 'Well, you could put a bit of butter on the spuds Andre', the woman responds suggestively. Oo-er.
The second (rather confusing) ad features a bashful single father and a mysterious woman – you've guessed it, she's French – who wants to buy his horse. We think. The Irishman attracts her attention with his proficiency in making hollandaise sauce, and the housekeeper is forced to break their steamy eye contact with the passive aggressive warning: 'I'm going to be serving now, any minute'. It all concludes with the immortal question: 'Who's taking the horse to France?' Perhaps we'll never know.
9. Never Seen, Anchor Spreadable
Lovers of a good pun should enjoy this ad from Anchor. It features a field of cows performing an all-singing, all-dancing musical number in reaction to the brand's new spreadable butter. A cockney bull, voiced by the late Bob Hoskins, seems particularly baffled by the innovation, declaring 'I've never seen anything like it in my life!' We dread to think how he'd react to avocado spread.
10. The Margarine For Men, Flora
Something happened to men in the late 1970s that changed their lunching habits forever. No, they didn't make their own sandwiches (that was still their wives' job, of course), nor did they step foot in the supermarket (god forbid!) but they became new men. Flora Men. Take this bunch of chaps down at the allotment. After one bite of the spread's 'light, delicate taste' they are converted, deciding they must claim it as their own. Sorry ladies - like the Yorkie bar and man-sized tissues, Flora is now off limits. Flora is now the margarine for men.
The Dairymen
From lab-made milk to butter shortages, our annual definitive guide to the dairy category is full of insight and analysis on the latest trends shaping the industry. This year, The Dairymen will explore how the UK's exit from the EU will affect British dairy, and ask how the industry can make sure it is prepared to tackle the supply chain pressures it might bring, as well as making the most of potential new export markets.
Gold and Platinum members will be able to download The Dairymen from 14 September. Subscribe now. We'll be publishing insight and analysis from The Dairymen online throughout September and October.