Not long ago, Milk & More appeared on its last legs. But thanks to high-tech logistics and a green focus, it's become a pioneer in delivery – and it's now looking to the future
When it comes to going the extra mile, Milk & More's drivers have some inventive methods. "We have this one guy – because we deliver between midnight and 7am – who carries a can of oil around with him in case he finds a gate that squeaks and wakes up his customers," says Patrick Müller, CEO of the doorstep delivery service.
Other drivers have customers' gate codes or even house keys to allow them to stealthily drop off goods in gardens and homes in the dead of night.
For Müller, it highlights the human element of Milk & More, "which makes us very different to supermarket delivery services. We are trusted as a part of the community."
In some ways, it's akin to the traditional milkman. In others, that comparison feels very outdated. With 300,000 regular customers a week and another 200,000 who "dip in and out", Milk & More – as its name suggests – is everything from a "farm shop on wheels" to "the home of refill", he says.
The "super-efficient business" is also far from traditional behind the scenes. It's built on super-modern technology and logistics – such as its new fulfilment centre in Mitcham, Surrey, which opened in April.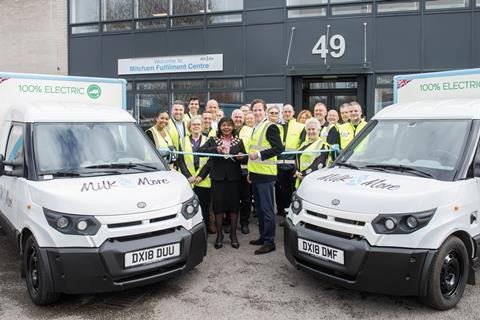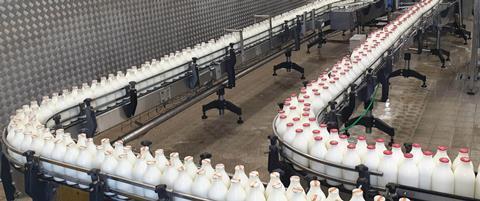 It's now looking to increase investment in the tech behind its distribution – while improving the front end of its website, to make the buying experience as frictionless and convenient as possible.
This rampant ambition is a far cry from how Milk & More looked just under a decade ago, when its future was in question. In October 2015, then owner Dairy Crest planned to sell its loss-making liquid milk business to Müller Milk & Ingredients (MMI).
As such, the long-term existence of Milk & More became a topic of speculation in the milk sector. Dairy Crest had already put Milk & More depots up for sale and announced it would close its bottling site in Hanworth, London.
Milk & More took a further major blow when MMI announced it would review the entire operation under its ownership. The industry view was of a business in its death throes.
But by 2016, things had turned around. Interest in DTC food delivery was rising, driven by the likes of Amazon Fresh and Deliveroo.
Against that backdrop, new owner MMI withdrew the plan to close Hanworth. Instead, it moved to make Hanworth a "centre of excellence" for bottling milk in glass – an eco-friendly decision that gained credence in the wake of David Attenborough's Blue Planet II at the end of 2017.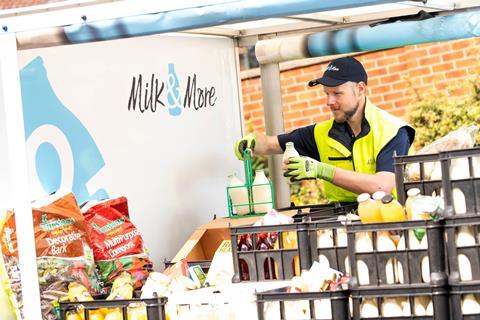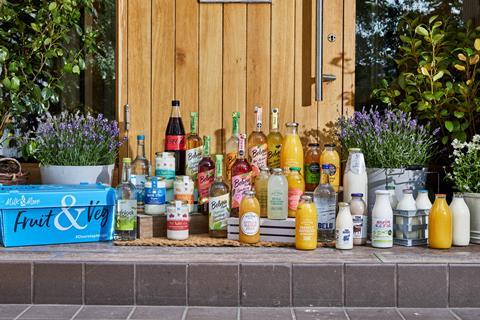 That landmark decision stemmed from a desire to "try to take elements from the business which were fit for purpose, and for those that were not, let's try to change it", says Müller – who took the helm at Milk & More in 2016 and also ran MMI from 2018 to 2020.
One of the most important changes was making the business digital. "When I started, we would still take payment in coins under the doormat," he says. That had to change. By January 2020, Milk & More had switched to 100% online payments – provoking the ire of some customers.
Müller, who is no relation to the German Müller family that owns MMI, is unrepentant. The change was required to make the business more efficient – a theme that's been core to the successful revival of its delivery operation.
"The original 'milkman' model was actually really good," he says. "It promoted the 'little and often' way of shopping, and it works in high density environments where you can do street-by-street deliveries."
But it was also hugely inefficient. So, Milk & More moved to stay affordable. "We break costs down into good costs and bad costs. The good costs are for the premium products that we offer. People understand why organic milk is a bit more expensive because you can explain to the consumers what is different," Müller explains. "The bad costs are stuff like logistics costs that nobody wants to pay for."
In a bid to cut those "bad costs", Milk & More has revamped its routing system to ensure drivers deliver the optimum amount of product.
"We do about a million deliveries every week and now have a centralised routing team to optimise routing on a daily basis," Müller says. "We've taken about 2.3 million kilometres out of the network."
Deliverers also use telemetry software to optimise the way they drive and increase the mileage of their electric vehicles, he adds.
"It's a tool that knows exactly how drivers brake, accelerate and turn corners." The collected data is fed into staff training, where drivers "see what good looks like".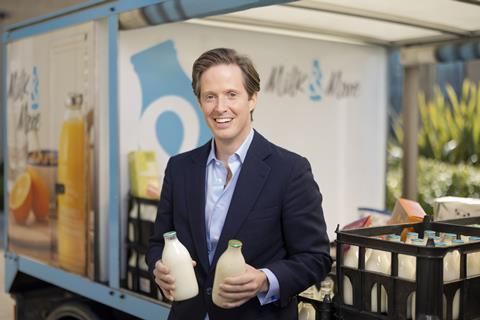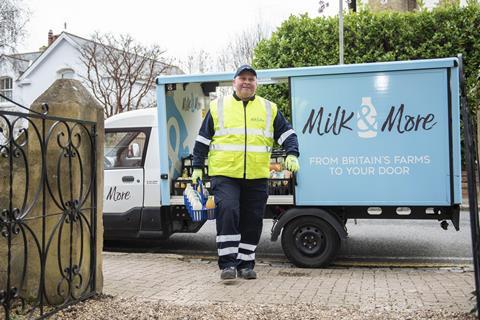 The final piece of the revamp has been primary logistics. In the past year, smarter distributions to fulfilment centres have enabled the business to cut 650,000 miles and 13,000 lorry loads annually.
Further efficiencies have come with the opening of the new Mitcham hub, which consolidated two facilities into one. "We've already seen efficiency gains from this move, with Mitcham able to load 10 vehicles at a time and they can be loaded much faster," says Müller. "We even have a garage on site, so we can do repairs on vehicles immediately."
Next on the list at Mitcham will be a trial into automated picking in September, which will run alongside the website revamp. "That will see us look at how many clicks you have to take, and we want it to be as easy as two to order for the next morning," he says.
"We already know what our customers are ordering. So, if you normally order bread on a Wednesday and you haven't, we can ask on Tuesday night, 'Do you want your bread tomorrow?'. And we can say, 'By the way, we also have fresh croissants and fresh apples' too."
This all plays into Milk & More's position as a premium retailer – one that now offers customers a multitude of choices outside milk and morning products, Müller adds. This has been further reinforced by recent supply deals with the likes of Daylesford Organics and other businesses that allow Milk & More to offer "online artisan grocery".
What's more, most of that grocery is packed sustainably. The business sells 97% of its volumes in packaging that's either reusable, recyclable or compostable. Milk & More recently expanded its refillable offer to 77 lines with the aid of circular supply chain business Again.
That means bottles offered by brands such as Belvoir Farm, Tom Parker Creamery and Wenlock Spring can be collected, refilled and resold. Even Coca-Cola got in on the act in a trial launched in June.
Müller has no intention of stopping there. He says the business has capacity to expand its refill service even further – and sees opportunities to fuse its fleet to offer delivery services to third parties, effectively turning the business into a logistics supplier.
Clearly, there are plenty more inventive ways to go that extra mile.