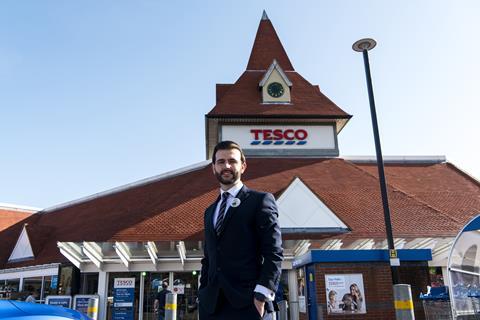 Winning store: Tesco Warfield, Bracknell
Store manager: Carl Aston
Size: 35,000 sq ft
Market share: 19%
Nearest rivals: Waitrose – 2.1 miles, Morrisons – 2.3 miles, Sainsbury's – 3.5 miles, Asda – 10.4 miles
Store data source: Analysis by CACI.
Call the market planning group on 020 7602 6000
Did you sense a change of attitudes among customers after the easing of lockdown measures this week? I think we have a long way to go before we are anything like back to normal, but we did see some signs that people are changing. We had a massive weekend in terms of sales, helped by the nice weather we're having.
How does trade compare to this time last year? It almost felt like Easter had arrived already last week. I would say it was our biggest weekend since Christmas. We actually beat our like-for-like figures for last year, which was when people were stockpiling, which says a lot about how well we're doing at the moment.
You arrived at this store as manager in the midst of a pandemic. What was that like? I moved from the Gerrards Cross superstore in July last year. Starting a new job in a pandemic is certainly not easy, like it's not been easy for anyone, and it's definitely been a stretch for me on a personal level. But it's also been a huge experience that I am sure will help me tackle any challenge I have to face in the future.
Has the store had any changes recently? We had a bit of a refresh last year: it got new point of sale fixtures and a bit of a lick of paint. And I joined of course, that's also new.
From a business perspective, what are you looking forward to as lockdown eases? I think it's a chance for us to prove we can win the loyalty of our shoppers when the other, non-essential, stores open. If they still come to us, then that will show we've done a good job for people in very difficult times. Mainly we are all just looking to get back to a bit of normality. It will be brilliant when all of my colleagues are able to see more of their friends and family. It will be a real boost for the store in terms of morale.
Speaking of normality, is Easter going to be a bit more normal than last year? Last year it was very different: we had just gone into lockdown. This year we are already seeing products like confectionery flying. We've also got some really great food for barbecue and outdoor eating because of the emphasis on people having to meet outdoors under the current rules. The business has done a great job in gearing up for that, it really is all guns blazing.
Tell us about the new barbecue products. There is a great new barbecue range with own-brand fire pits and also some great Gourmet Kitchen Burger products. We also have a very big range of vegan and plant-based barbecue food this year.
What are your favourite Easter range products? In food, it would be the Finest Simnel Cake. When it comes to non-food, that would be the new Mrs Hinch homeware range, which has proved very popular.
How do you help staff with the management restructure that it's currently going through? My advice to them is to remain positive and focus as much as you can on the now. My colleagues have done an absolutely outstanding job and looked after each other. They are all superheroes in my eyes.