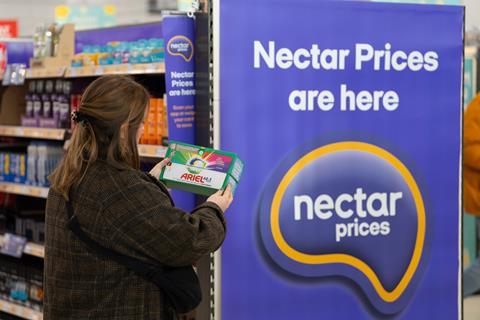 Sainsbury's Nectar Price deals are continuing to have a major impact on its overall competitiveness.
For a second consecutive week, a hefty discount awarded to its loyalty scheme members would have made Sainsbury's the cheapest supermarket in the Grocer 33.
Nectar Price discounts on eight items shaved £6.30 off the total bill to take Sainsbury's from fourth place to just shy of a quid cheaper than Asda, which came in cheapest when looking at shelf-edge prices alone.
Asda came in at £61.56 with the lowest price for 19 items and the exclusively cheapest price for nine, including the Brussels sprouts, unwaxed lemons, Dr Oetker pizza, and Yeo Valley natural yoghurt.
Sainsbury's was cheapest for 10 items and exclusively so for three – the English muffins, raspberries and turkey mince.
Morrisons was exclusively cheapest for the Ben's Original rice and Eat Real lentil chips (see right) as it came in £3.40 more expensive than Asda at £64.96.
Tesco meanwhile was £4.32 pricier than Asda at £65.88. Its loyalty scheme members also received a discount but not as significant as that enjoyed by Sainsbury's shoppers. Clubcard Prices would have shaved £2.30 off the retailer's total.
Waitrose offered the exclusively lowest price for four items this week. These were the Dove shower gel, Kellogg's Coco Pops, Nature Valley bars and Pringles. However it still came in just over a tenner more expensive than Asda at £71.71.
Overall prices were largely unchanged compared to last month, while annual inflation was just 5%. The Dove shower gel was 34% more expensive than a year ago. However seven items were actually cheaper than last September, including the Innocent apple juice, Shaken Udder milkshake, broccoli and wholemeal loaf.