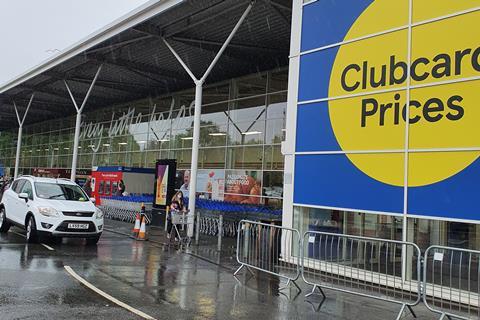 Tesco has bagged the final store of the week award of the current Grocer 33 year, taking its total wins to nine.
The "easy to navigate" Gillingham store scored 80 points. Although staff were busy replenishing shelves, our shopper said they were approachable and helpful.
Our shopper described her shop as a "pleasant experience" overall. However, there were three out-of-stock items and she did encounter one major problem. She was disappointed about how long it took for a member of management to help her cashier override a transaction – she waited nearly 10 minutes by the till and the supervisor was "not at all apologetic for the wait".
Sainsbury's in Swansea took the runner-up spot with 74 points. The Welsh branch was quiet at the time of our shopper's visit on Friday afternoon, with plenty of staff members stocking up shelves and preparing for the weekend rush.
They were all "well-presented" and helpful, with several employees happy to scan the store for items she was struggling to locate. Staff were also visibly asking customers to practice social distancing.
The in-store café remained temporarily closed while the cheese, meat, fish and deli counters have been shut down permanently across all Sainsbury's branches, taking the shine off the store's appearance.
Again, our mystery shopper wasn't exceptionally lucky in the availability department, as three items on her list were out of stock while the Casa Luis cava was not stocked.
Morrisons in Warminster came third with 62 points. Our shopper was "impressed" by the attendant wiping down the trolleys at the sanitation station in the car park. The store's entrance display featured some summer-themed promotional offers and the butcher, fishmonger, deli and bakery counters were all "attractively displayed".
The main downside to her visit was that, while staff were efficient and courteous, they did not show her to the products she was looking for.
Nor were they able to advise if an item was out of stock or just not on shelves – which meant she left without four items. Plus, only three of the 14 tills were open at checkout.
Nevertheless, our shopper described the overall store standards as "excellent".
Trailing behind by just one point was the Market Harborough branch of Waitrose, which turned out to be disappointing due to the "lack of stock" available.
Our shopper felt the branch was cluttered as customers tried to reach for various products while several members of staff filled the shelves.
All seven members of staff she spoke to were helpful. Her checkout experience was also smooth as the cashier was very friendly and quick to process her groceries. But it was "overall not the best of shopping trips with all the necessary staff activity".
Despite coming fourth this week, Waitrose is a clear winner in service over the course of the year with 21 wins – 12 more than nearest rival Sainsbury's.
Last place went to Asda in Wrexham this week, which racked up just 59 points despite showcasing good availability (the only out-of-stock item was the Onken yoghurt).
Our shopper was not impressed by the lack of fruit and vegetables. In addition, the store layout forced her to do quite a lot of doubling back to find certain products.