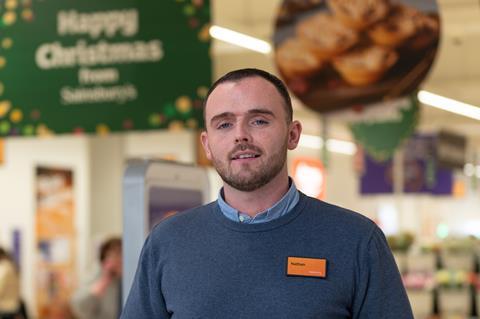 Store manager: Nathan Gorman
Store: Sainsbury's Armagh
Opened: 1998
Size: 26,190 sq ft
Market share: 33.59%
Population: 31,500
Grocery spend: £869,382.07
Spend by household: £74.59
Competitors: 3
Nearest rivals: Aldi 96.3 miles, Asda 10.2 miles, Co-op 7.1 miles, Iceland 0.7 miles, Lidl 75.3 miles, M&S 0.7 miles, Morrisons 75.7 miles, Sainsbury's 12.2 miles, Tesco 10.0 miles, Waitrose 127.7 miles
Source: CACI. For more info visit www.caci.co.uk/contact. Notes: Shopper profiling is measured using Grocery Acorn shopper segmentation. Store catchment data (market share, population, expenditure, spend by household, competition) is within a five-mile radius.
For CACI's shopper segmentation of the other stores we visited this week see the online report at www.thegrocer.co.uk/stores/the-grocer-33
Tell us about you and your store? I took over the store in October. And it's my first store manager role as I was previously a deputy store manager.
How are you settling in? Really well. I've been getting to know the team and local community and they've been getting to know a bit about me.
What are the challenges of taking on your first store manager role? The big thing about going from deputy to store manager is the ultimate responsibility now stops with you. Your role certainly shifts up a gear.
What's a favourite moment from the last month? Winning The Grocer's mystery shopping competition has certainly been a highlight! But also having the opportunity to run my own store has been a highlight of my career. It's something I've worked really hard towards in the last couple of years in particular. The Grocer win has been the cherry on the cake for me.
What made you want to be a store manager? It's something I've always enjoyed – I'm a real people person, I enjoy leading a team. At Sainsbury's it's one of our biggest values, we pride ourselves on what we do with our people. It's a value that fits really well with my core values.
What's the Armagh store like? It opened almost 25 years ago. We have our 25th birthday coming up on 8 December. We have a really passionate team of people here who are really connected to our customers.
What plans do you have to celebrate the quarter-century birthday? We have had some meetings with our Better Together team and we have a couple of different options at the moment. The most likely is a lunch to celebrate with some of our longest-serving colleagues including ones currently working here. We have colleagues who have been with us from the minute the store opened. We will put on a bit of a spread to say thank you for their service.
What's new in store? The big thing is Christmas of course. For some of the new products, we've started to do some sampling with our colleagues, so they can tell customers what those products are like.
What are the best offers at the moment? We have Baileys at £10 a litre, and we have a half-priced leg of lamb. We've got some really leading deals at the moment, which has helped drive customer footfall. And in general we are seeing lots of new customers.
Why do you think that is? A lot of what we are doing as a business in driving that value message is working, as well as the range we have. It's a really good range in comparison to some of our competitors and that is drawing people in.
Are there any Christmas products in particular you are looking forward to consuming personally? Out of some of the Christmas products I've tried so far this year, I'd say the Tipsy Toffee Mince Pie would be my favourite. They were a real hit – not your traditional mince pie, but absolutely amazing.
What's your priority as we move into the new year? My big focus is colleague engagement. We have some amazing colleagues here and I want to spend some time focusing on the team and getting to know them more. It's about coaching the team, and really giving them the recognition they deserve as a result of the brilliant work they do.