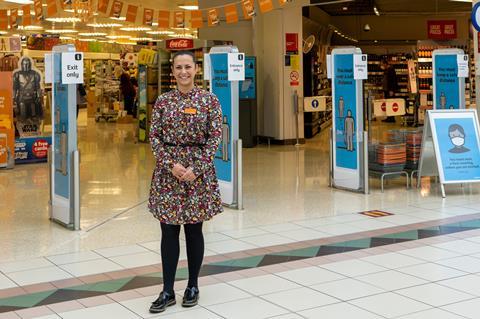 Winner: Sainsbury's Craigavon, Portadown, Northern Ireland
Store manager: Emer Compston
Size: 27,000 sq ft
Opened: 1998
Market share: 6.9%
Nearest stores: Tesco – 0.2 miles, Asda – 2.4 miles, Morrisons – 63.0 miles, Waitrose – 122.4 miles
Store data source: Analysis by CACI. Call the market planning group on 020 7602 6000
How long have you worked at this store? I have literally only taken over this store in Craigavon on Monday this week. I was here about two years ago as a temporary cover so I know the colleagues pretty well. They've been absolutely fantastic this week, keeping me right and having me understand what's going on in this store. Elena Curtis, the previous store manager, finished in this store last week after 10 years here. This result is really hers, but getting a Grocer 33 award is a really proud moment for both of us and the store.
Everyone is struggling with stock availability, as reflected in our shopper's basket. How are you managing? Availability is definitely starting to get better. We know we have had availability issues on certain areas. What we are trying to do is to make sure our colleagues are equipped to offer customers alternative products.
Brexit has also made it harder for supermarkets to get products to Northern Ireland. How are you dealing with that? Our availability hasn't been affected as much as I initially feared. If you'd asked me that question last December I might have been worried, but in terms of Northern Ireland and customers getting the products they aren't able to get now, hopefully we've been able to provide them with an alternative. We've worked in conjunction with Henderson and I think it's fantastic that we as a supermarket have identified that we may have some issues, and that we can get additional products that we may have struggled to stock up into our stores by working collaboratively with another business.
How is the branch responding to the easing of Covid restrictions? I do think people are becoming more relaxed. The legislation has recently changed in Northern Ireland and we are still asking customers and colleagues to socially distance. We have our Perspex screens at checkouts, we still have sanitising stations and we do increased cleaning around the store, so hopefully that allows people to feel safe and relaxed.
How have customers received Sainsbury's new autumn-themed range? Because we're a smaller store, we don't have all those new products. But we have got a couple of new autumn cakes and they're a part of the bakery cake section. We're currently still trading through the last of our summer ranges on fresh, but certainly on dry goods we're starting to see some of those winter products come through.
Will there be any changes to the front-of-store display? We have limited our front-of-store displays to just flowers, and that's more about keeping customers safe and not creating clutter at the front of the store. I try to keep my front door clear so customers are able to get in and out of the shop freely and easily.
What are your plans for the branch's future? I'm still taking a bit of time to settle in but certainly looking forward. I will start to formulate a plan along with my management team that will continue to focus on what the business wants us to focus on: delivering really great customer service and maintaining availability.