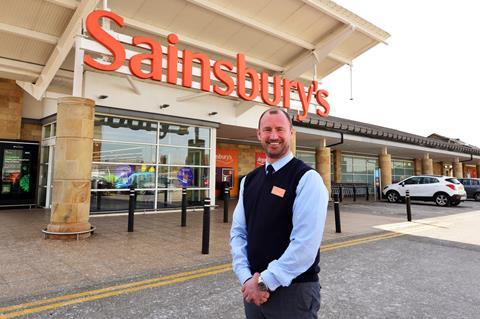 Store: Sainsbury's Otley
Store manager: Jason Le-Roche
Opened: 2009
Size: 34,000 sq ft
Market share: 20.4%
Nearest rivals: Waitrose - 0.3 miles, Asda - 0.4 miles, Morrisons - 3.2 miles, Tesco - 6.4 miles
Store data source: Analysis by CACI. Call the market planning group on 020 7602 6000
How has this week been? I've been in retail for 31 years, with the past six as a Sainsbury's store manager, and I have never experienced anything like the past three weeks. I feel incredibly proud of what my team, and indeed all supermarket teams, have achieved in the last few weeks. It has been quite surreal, but the whole team has been fantastic and are a credit to the store and to Sainsbury's. They have a real sense of duty to serve customers well and support each other. And I can't really thank them enough.

You scored full marks for staff service. Is that a surprise given the circumstances? I don't know what to say; I'm lost for words. It is fantastic. I'm incredibly proud and humbled, especially considering the pressure we are under last week. It is a real community feeling in Otley as it is a small market town where Sainsbury's have had a presence for 11 years.

Availability was hit hard by the huge surge in demand. Have you seen availability start to come back yet? It is the most challenged situation on stock availability that I've ever known in my time as a retailer, but there has been a relative respite over the weekend. Fresh produce volumes have started to recover; ambient is taking a bit longer to get back to normal, with items such as toilet roll, dry pasta and long-life milk. There have been bold decisions made to try and maximise the supply chain, with pack sizes and range reduction looked at to make production more efficient.

The prime minister announced tougher measures on social distancing this week. Has the store been busy today and how are you keeping everyone at a safe distance? It is the quietest I've seen the shop so far this week. From today, we have just been talking to customers directly, advising about the two-metre rule. There have been managers outside marshalling the entrance to the store and talking to customers about the importance of social distancing. Our PoS and public address system scripts have been updated. We have closed every other till to keep staff apart, and from Thursday we installed sneeze guards on checkouts and manned kiosks. We have also removed all off-shelf displays to declutter the store to give more space to customers and staff working on the shop floor.

Has there been an increase in demand for Argos products in-store with more people working from home? Yes: there have been real increases and customers are shopping into categories that support them for self-isolating, working from home and home schooling. Sales of freezers have seen a huge increase as customers look for more storage at home for food too.

How has the priority shopping time for the NHS been received considering you have Wharfedale Hospital nearby? We now have 30 minutes every morning before we open, exclusively for NHS. I was at the front of store welcoming workers in. They were extremely grateful we took these measures. And because our Mother's Day sales were lower than expected, we had an abundance of flowers left over. We were able to present every NHS worker who left the store with a bouquet of flowers as a way of saying thank you for the work they are doing. It was very rewarding as a retail manager to be able to show that appreciation.