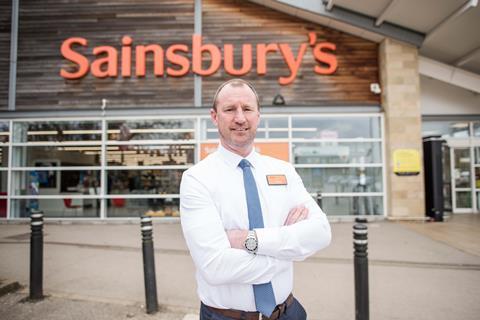 Winner: Sainsbury's Otley
Manager: Jason LeRoche
Size: 34,000 sq ft
Opened: 2009
Market share: 20.4%
Nearest rivals: Waitrose – 0.3 miles, Asda – 0.5 miles, Morrisons – 3.2 miles, Tesco – 6.4 miles
Store data source: Analysis by CACI.
Call the market planning group on 020 7602 6000
The week marks the anniversary of the first lockdown. What are your reflections on the past 12 months? Incredibly, our store actually won this award exactly a year ago at the height of the panic-buying problems. I'm delighted to say that we had a lot more loo roll in stock this time round! It's been an incredible year, really. I've been doing this job a long, long time and never experienced anything like it. Funnily enough, I've not had a lot of time to reflect on it all but looking back, I have an enormous sense of pride on behalf of the whole team. They have just done an incredible job in keeping the customers safe and the community fed. I think that goes for everyone who works in the grocery retailing industry.
How have you kept staff morale up over the year? It's not been easy, that's for sure. There were definitely times at the beginning when you would wake up thinking whether going in was the right thing to do or if it was safe. But the reward was the feedback we got from customers, who tell us what a vital role we have played and also how safe they have felt coming into the store. At the start of the first lockdown, we definitely had some customers who stayed away and preferred to shop online, which we don't have at this store. But when things started to open up again, we found they were coming back in and were instantly reassured about safety with all the Covid security measures we have put in place. Our customer feedback scores are way up on the levels from before the pandemic and so are staff engagement scores, and that tells me we are getting it right. Even though as a team we have had to stay away from each other, we've never been closer.
As we near the end of this latest lockdown, are customers still adhering to the rules around masks and social distancing? For the most part our customers are still sticking to the rules. But there are a small number who are starting to become a bit more relaxed about things, so it's our job to ensure we are still doing all we can. We still have greeters at the entrance at all times and they play a really important role in making sure shoppers are wearing masks or providing them if shoppers forget, and also reminding them to keep their distance. At the same time, we keep a close eye on potential pinch points in the store where distancing could become more difficult, such as the seasonal aisle and checkouts, and try to help ensure everything keeps flowing.
Are you expecting a very different Easter this year from previous years? I still think Easter is going to be a really important family time and so I expect we will see the usual sales of big set piece meals. It's also going to be the first weekend when more people can meet up outside in parks or gardens, so we have a great range of outdoor food that I think will sell really well – whether that's barbecues or picnics. This lockdown has felt really long and people will be desperately keen to meet up, whatever the weather.