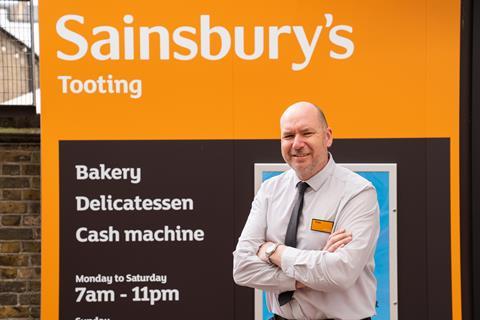 Winner: Sainsbury's Tooting
Store manager: Andy Stapleton
Opened: 2000
Size: 18,000 sq ft
Market share: 4.1%
Nearest rivals: Waitrose – 1.5 miles, Morrisons – 1.8 miles, Tesco – 2.1 miles, Asda – 3.5 miles
Store data source: Analysis by CACI.
Call the market planning group on 020 7602 6000
How did Easter trading compare to normal this year? Easter was very strong for us. Sales were really good all week in the run-up. This was down to a few factors working in our favour. Easter coincided with the relaxing of the rules, which meant up to six people could meet outside and of course the weather was good. It meant we sold well on things like charcoal, disposable barbecues and beers, wines and spirits. We also did well on the more traditional Easter lines – we didn't have many Easter eggs leftover.
Our shopper was made to feel safe in the store, that must be good to hear? That really is brilliant. Our store would be described as medium-sized and it is a busy store – so this is a testament to the work we have put in place to keep staff and customers safe. Obviously I am biased but I think Sainsbury's has done a great job with the Covid measures as we have greeters at the entrance to control numbers, remind people about shopping alone and provide masks if they have forgotten them. By and large shoppers are in the groove with it all now as it's been going on for so long. As cases come down they could get more relaxed, but it's our job to keep reinforcing the messaging – we had refreshed signage last month which helps remind people what they need to do.
What impact are you expecting from the reopening of non-essential retail next week? I think for us it will be a good thing because of our high street location. We are primarily a food store and don't have extensive non-food ranges. We also don't have online at this store so haven't seen a big sales uplift through that. As we are on the high street, we traditionally had a very strong trade from passing commuters – so with many of the other stores closed, it has been quieter in the area. It will be good to see the other retailers open again and the high street getting busier.
How challenging has it been keeping staff morale up over the last year? Honestly I can't thank my team here enough – all of my colleagues have been absolutely brilliant, coming into work every day supporting the public and helping to feed the nation. It hasn't been difficult to keep up morale at all – really they have taken everything in their stride, relished the challenge and it has been a real pleasure to see it.
What has feedback from customers been like on the job you are doing? I think customers have been given a new appreciation of the work we do and we have seen this in the service scores we get from shoppers – our staff have excelled in this. As such we have been kept busy with recognising the great job our colleagues are doing, whether that is with rewards, our Love It programme or socially distanced team huddles where we give out things like chocolates to reward great service. We also have a recognition wall in the back of house area where we can praise colleagues. Overall, I do think it has been great being recognised as key workers and I think there is much more respect from the public for what we do.