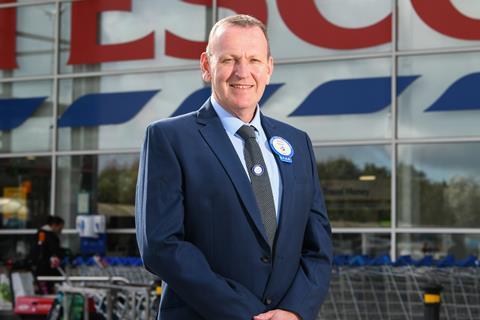 Winner: Tesco Ivybridge, Plymouth
Store manager: Dean Small
Size: 66,337 sq ft
Opened: September 2004
Market share: 39%
Nearest rivals: Sainsbury's – 5.5 miles, Asda – 6.2 miles, Morrisons – 6.3 miles, Waitrose – 12.2 miles
Store data source: Analysis by CACI.
Call the market planning group on 020 7602 6000
What's been the biggest challenge you've faced in the past 18 months? The uncertainty that the Covid situation has created among colleagues and shoppers. It's been really important from a brand and store perspective that we're being seen doing the right things and acting in the right way so we make people feel nice and calm.
As things have progressed through that 18-month period, we're more or less back to a normal processing procedure. I'm seeing more customers coming out, so our online business has changed shape.
How has the recent fuel crisis affected the branch? We have no queues and customers have returned completely to normal. We did have a few days where we were struggling for availability of fuel. But what we found is after that one week, people realised Tesco still had its fuel stations open and we were still business as normal. The team over there did an awesome job. We had people marshalling customers in and out of the fuel station to ensure they were able to get the fuel they needed and they were in and out as quickly as they could be.
Our shopper noticed some gaps on shelves. What categories are you struggling with most at the moment? I don't think there's a specific category. The company has a really good way of managing stock flow. They can alter the volume of stock that comes in and out of stores in order to ensure that the distribution service can still cope when it's under pressure. The challenges in the network still exist, but we're seeing less of it at store level.
Are you seeing customers starting to stock up for Christmas? We've got a full Halloween launch and a full double-sided Christmas aisle. We haven't seen a change in terms of the way Halloween is being shopped this year. In terms of Christmas, I think we're going to see an element of people buying little and often.
Are you preparing for potential panic-buying during the holiday period? When customers see confidence in availability of product, that can calm them. We started preparing for Christmas a few weeks back, so we're now in the height of ensuring our plans are quite robust, and looking at all the different eventualities just to make sure we're prepared. Last year's Christmas was exceptional – it was probably one of the better Christmases we had. This year I'm really confident that we'll be in a very similar place.
How many seasonal workers are you bringing to the branch? My store will probably bring in the range of 60-100 new colleagues. We started hiring for Christmas and general recruitment probably four to five weeks ago. We have quite a lot of people that return to us at Christmas, mainly students who go off to different parts of the country. We have a very good recruitment campaign – we've got an existing workforce and we try to encourage them to speak to their friends and their own family to come work for us over that festive period.