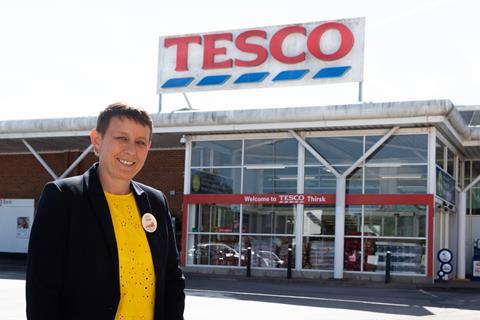 Store: Tesco Thirsk
People manager: Heidi Wanley-Keers
Opened: 1995
Size: 24,737 sq ft
Market share: 47.9%
Population: 18,839
Grocery spend: £481,531.03
Spend by household: £57.5
Competitors: 4
Nearest rivals: Aldi 0.9 miles, Asda 8.5 miles, Co-op 0.5 miles, Iceland 8.1 miles, Lidl 0.3 miles, M&S 8.3 miles, Morrisons 0.3 miles, Sainsbury's 8.6 miles, Tesco 8.1 miles, Waitrose 18.1 miles
Source: CACI. For more info visit www.caci.co.uk/contact. Notes: Shopper profiling is measured using Grocery Acorn shopper segmentation. Store catchment data (market share, population, expenditure, spend by household, competition) is within a five-mile radius.
For CACI's shopper segmentation of the other stores we visited this week, see our service & availability report
Tell us about your background with Tesco and the Thirsk branch. I've worked for Tesco since the age of 16 – for 31 years now. I started off as a fishmonger and progressed from there. I worked in several stores at different levels of management, and I've been at the Thirsk store for five years.
What's the secret behind Thirsk's excellent store standards? It's very high on the agenda. We pride ourselves on our store standards and giving customers the best shopping experience. Thirsk is a little market town, and so the team is like a family that look out for each other.
Is most of your team local? Yes, we have a lot of colleagues who are now coming up to long service, and so they have their regular customers that come in week in, week out.
What about your shopper demographic? This is a mid-market store and we serve a good mix. The population in the town itself is quite low, but we do serve the surrounding areas and because we're in quite a remote location, people do travel from a distance to come to Tesco.
How is Clubcard Prices helping your demographic? The feedback from customers around our Clubcard Prices is that it's absolutely fantastic and they really enjoy the benefits. We also get a lot of feedback from single people and those who live on their own who would not necessarily get the 'buy one get one free' offers that we previously had, so it seems as though in Thirsk it's a more appreciated offer to the customer.
How much focus are you giving these value campaigns in terms of store layout? The price message is really strong to highlight the great value visually at the shelf edge and point of sale across the store. Tesco does a lot on the website as well to market the great prices.
Tell us about the Better Baskets campaign. It pretty much helps our customers make a better choice every time they shop. We want to encourage our customers to have that healthy balance, but there's a little bit of fear and nervousness around cost with the increase in inflation, so we have created Better Baskets zones in store and they include products such as high-fibre, plant-based and sweet treats under 100 calories. At the minute these zones are being created as we realign the stores for the HFSS legislation. We are on a journey with [HFSS] at the moment, but we need to make sure it's well communicated and has minimal disruption to our customers.
You also have a fuel station. Have the recent hikes in prices affected sales? It hasn't had an impact on sales because everybody still needs fuel, but I will say our prices remain competitive throughout the market.
What have you got planned for the branch this year? The store is due to have a general maintenance refresh, which is really exciting and hopefully will improve the store even further for our customers. The team here is so involved in the community and raises a lot of money for local events and local charities, so we're looking forward to gathering the 'Christmas in Thirsk' group that usually raises funds to put Christmas lights up in the town centre with a 'switch on' show. With lockdown that hasn't happened the last two years, so that's our next mission.