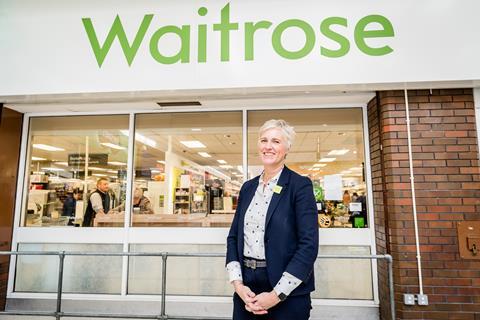 Winner: Waitrose Spring Garden Centre, Buxton
Store manager: Rachael Quinn
Size: 15,000 sq ft
Opened: 2006
Market share: 17.6%
Nearest rivals: Aldi – 0.2 miles, Morrisons – 0.7 miles, Sainsbury's – 0.8 miles, Iceland – 1.1 miles
Store data source: Analysis by CACI.
Call the market planning group on 020 7602 6000
Waitrose is among the supermarkets more strictly enforcing face masks. How have you managed this change? We've had mixed feedback from customers, although the majority have been very understanding and tell us they feel more comfortable now. The same goes for partners who are now better able to focus on their work. Our stronger enforcement starts from the entrance where we have security marshals managing customer flow, reminding them to wear face coverings and to shop alone if they can, followed by partners practising what they preach when it comes to wearing face masks and keeping a distance.
How have you handled the surge in popularity for online deliveries? Our weekly capacity for grocery deliveries has doubled since our split from Ocado and the initial Covid-19 outbreak. Our vans are full all the time, which is why we have added click and collect. It's becoming increasingly popular for shoppers who aren't able to get a delivery slot.
Have you seen an increase in staff absences? We had a good run of minimal team absences over Christmas but we're seeing an increase again now. It's been really up and down over the past 10 months. I find the most effective way to manage it is supporting partners in any way we can and everyone else pulling together to deal with any operational challenges. For those who are still in work, we focus on keeping morale up by celebrating the little things such as positive customer comments. Even little rewards and recognitions can go a long way, like all John Lewis Partnership team members getting free meals during their shifts throughout January as a thank-you for their continued efforts. That's been very well received.
Have you experienced any availability issues post-Brexit? No, and that's the case across the business. I'm happy to say we've not seen any panic buying either. The central team has worked very hard to ensure availability stays high and the support we've had from them regarding keeping stocks up has been really good. It's only our service counters that have a reduced range, but we still try to have them open as much as we can. The counters are key to showcasing what makes Waitrose different.
How did Christmas go? It was certainly new territory but we ran very smoothly overall and achieved our sales target. Our extended opening hours really helped to minimise queues and to give everyone the space to do their shopping. There was a lot to negotiate with managing queues for turkey pickups, click and collect orders and general in-store shopping. We sold a lot of foodie and alcohol-based gifts, smaller turkeys and Heston Blumenthal lines this year. Customers particularly loved his 'tipsy stollen' – it sold out very quickly. Now we're seeing incredible sales of low and no-alcohol spirits following our range expansion, alongside fresh produce and vegan products as shoppers focus on their health in the new year.