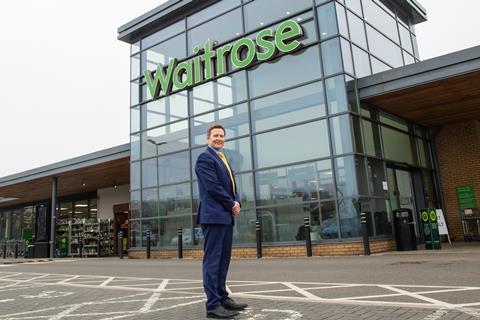 Winner: Waitrose Peterborough
Store manager: Jon Ashley-Webb
Size: 30,000 sq ft
Opened: 2014
Market share: 3.4%
Nearest rivals: Asda – 1.3 miles, Tesco – 1.6 miles, Morrisons – 2 miles, Sainsbury's – 2.5 miles
Store data source: Analysis by CACI.
Call the market planning group on 020 7602 6000
This is Waitrose's sixth G33 win in seven weeks. What do you think sets it apart? The wide range stocked in our service counters really helps Waitrose stand out. Sales from the counters have increased hugely since the new year, which I believe is down to customers feeling comfortable enough to buy items that aren't prepackaged. We're also unique because of the moves we make to help the community and I'm very proud to work for a retailer that shares the same values as me. The fact we're employee-owned is also a huge motivational driver for the team.
How are Easter sales going? Very well so far, which is in line with what I've seen for all events of late. Our trade in the run-up to special occasions is very strong and is coming earlier than I've seen before because many have time to shop at different times of the week. Customers are choosing to treat themselves and especially with the closure of the hospitality sector, they have more money to spend on items to enjoy at home. Shopping for occasions is just one of the shifts in shopping patterns the pandemic has brought. I've worked in retail for around 25 years and patterns have switched back to what I saw at the beginning of my career. This store is near a train station so we're used to having high commuter trade, but we're not getting office workers coming in.
How is your online grocery operation faring? The store now does 2,100 deliveries and a few hundred click & collect orders per week, and is currently the fifth-largest e-commerce operation in the entire business. That compares to around 400 online orders this time last year, which made up 5% of our total sales. It's around 35% now and it won't be long before it reaches 40%. We had a huge extension built last July to help meet intensifying demand for e-commerce, which was planned even before Covid, and the online team has grown 66% with 120 additional partners in the past 12 months. I'm so pleased with how well they have slotted in – it hasn't been easy because of social distancing and lack of team inductions.
How do you expect the easing of lockdown measures will impact sales? We could see a drop-off in alcohol, homeware and ready meals sales over the next couple of months as non-essential retailers are allowed to start trading again. But I'd say change will happen slowly as the majority of shoppers will be cautious. I do expect the surge in online shopping to remain, as customers who were concerned about using the technology required to do their shopping online pre-Covid have now overcome that.
Does the store have rapid coronavirus testing for staff? It's not offered at this branch, but it was added to the John Lewis store across the road a couple of weeks ago. It feels like we've gotten through the worst of the pandemic as case numbers are going down, and uptake of the testing programme hasn't been that significant. But it's reassuring to have it close by.