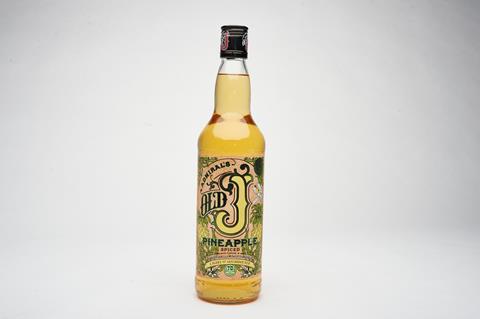 Winner: Old J Pineapple Spiced Rum, Admiral's
Rum has had an upmarket revival of late, with a raft of new contemporary twists and flavour combinations hitting supermarket shelves. Admiral's Old J range, with its colourful, craft design, is the perfect example of this shift in the market, captured by its latest addition for 2021, a spiced pineapple flavour crafted from a blend of 11 different flavours plus Caribbean rum. With a sweet tropical kick, cut through with subtle hints of vanilla, its high quality enough to be used for 'everyday sipping,' and flavourful enough to be splashed into cocktails too.
The judges were immediately drawn in by the tantalising pineapple aroma of this spirit and the flavour didn't disappoint. They could also clearly taste the notes of vanilla, as labelled on the product. Overall, consensus was that this rum was a product which was great value for money and really innovative with a bold and eye-catching label that would have a great stand-out on shelf.
Highly commended: OPIHR Gin & Tonic with a Twist of Orange
Finalists:
1881 Tiffin Gin
BLOOM Passionfruit & Vanilla Blossom Gin
High Water Hard Seltzer Cucumber and Mint
Ruddy Fine Lockdown Gin
With thanks to our sponsors