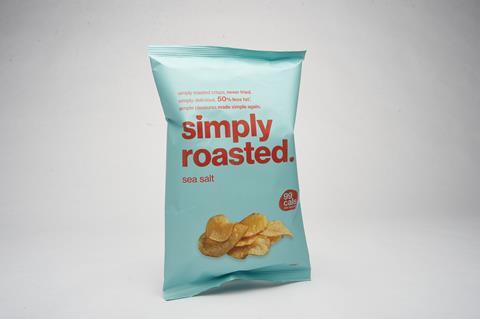 Winner: Simply Roasted Sea Salt
Popped. Air dried. Baked. The number of different cooking methods used to create a healthier crisp has been endless over the last decade. But with its Simply Roasted crisps, Mindful Snacker takes this one step further with the use of a patented roasting process that took 10 years to develop and cost more than £20m. Judges agreed that the result, with 50% less fat, significantly less salt and only 99 calories per serving, was both extremely tasty and extremely impressive, with a far lighter, natural taste than other attempts at healthy alternatives to the crisp.
Using a breakthrough roasting technology these crisps "taste like one of the best low-fat snack products out there", said one of the judges, superior to the baked alternatives and with standout packaging that features simple messaging showcasing its less fat message.
Highly commended: Quavers Prawn Cocktail
Finalists:
McCoy's Fire Pit Flame Roasted Peri Peri
McCoy's Fire Pit Flame Smoked Chorizo
Walkers MAX Kentucky Fried Chicken
With thanks to our sponsors