The price of milk serves as a barometer for the health of the grocery market, the dairy sector and the wider economy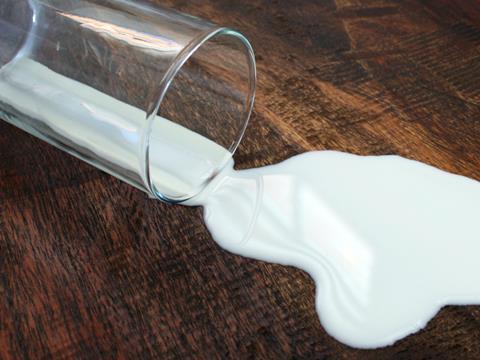 The price of milk matters. Not just to the thousands of farmers battling rising costs and rock bottom farmgate prices; it also serves as a barometer for the health of the grocery market, the dairy sector and the wider economy.

And it's been a stormy year. The price of a litre of milk in the mults has averaged at just 60p for the full year, as they've matched the discounters' low prices (for a long time 89p for four pints). But low prices haven't driven volumes. The supers have shifted 86.5 million fewer litres of the white stuff in the past year, a 1.9% decline, an acceleration on the 0.7% loss we reported a year ago.

"Lost value amounts to over £240m in the last two years," says Nielsen senior client manager Rupert Austin. But there is cause for some optimism: the sector's overall value loss has narrowed in the past year to £54m.
Data Box
For 20% off the complete category ranking click here and enter discount code NIELSENGROCER
Data supplied by nielsen.com
"In response to the well publicised milk price protests, the launch of Morrisons' own label Milk for Farmers and Arla Farmers Milk in Asda offer consumers the opportunity to buy their milk at a slightly higher price but with a degree of ethics in contributing this extra cost back to the farmer. This also helps add much needed value back into a market hit by price deflation over the preceding couple of years. As too does their launch of Arla's Best of Both."

Making health and ethical claims are not the only ways value could be added to milk. The lack of on-the-go milk options has also damaged the sector, says Crediton Dairy senior category manager Abigail Kelly. "I see people are walking around drinking from pint cartons," she says. "A 330ml semi-skimmed white milk has about 12g of protein and would be a great product for on the go."

More convenient options would certainly help, says Harriet O'Regan, senior category & brand manager for milk at Arla Foods, which launched a 250ml Cravendale format earlier this year. "Milk is not at the top of people's minds as a soft drink option," she says, adding that the sector has been hit by the waning popularity of breakfast cereals and black tea.
Top Launch 2016
Dialling up the messaging on milk's protein content could also pay dividends if the performance of flavoured milk's top performers is anything to go by. Protein has proved a fillip for the category. "Dairy drinks offer convenient solutions across different times of day, such as protein drinks for a post-gym refuel" says Laura Grove, head of marketing for Emmi UK.

For example, Weetabix's On The Go range includes a Protein sub brand which contains 21g of the stuff and has been a key driver of the brand's £5.4m (+65%) growth. There are other examples: For Goodness Shakes is up 11.5% to £9.5m and low-fat protein drink Acti-Shake has seen sales almost double to £3.3m.

It's not all about health in the flavoured sector, however. Arla's range of Starbucks branded dairy drinks are up by more than a fifth as café culture spreads to c-stores, and Mars has delivered 4.7% growth, thanks partly to the launch of a no added sugar line. "Our 350ml milk drinks range is a huge category driver," says the brand's general manager, Michelle Frost. "By adding a no-added-sugar option to the Mars milk lineup earlier this year, we hope to see even more category growth."

Drinking yoghurts, meanwhile, have had something of a resurgence in the past year, with all of the top three brands in growth following big marketing pushes emphasising their nutritional benefits. Actimel, which is now pushing the slogan 'Stay Strong With Actimel', has seen volumes climb 8.6%, partly as a result of lower prices.
Milk as nature intended – minimally processed and packed with creaminess and flavour. Could this help save milk? Alas, no. For Cow Milk (really, that's its name) isn't real. It was dreamt up by branding agency RPM for our June 10 Things… Dairy. "Milk is completely desensitised from the animal and place where it's produced," said creative manager Stuart Thompson. "This is different." It might not be real (yet), but it gives food for thought.
Milk could learn a thing or two from brands that are marketing themselves on a message of positive nutrition, emphasising the good stuff they contain; not the bad stuff that's been taken out. "The 1970s' low-fat movement is finally waning, and health-conscious consumers are inviting dairy - and full-fat items in particular - back into their diet," says Natasha Bowes, MD of Bio-tiful Dairy. "Brits are accepting the fact it is an important part of a healthy diet."

Indeed, fat is no longer being shunned to the same extent as in the past. In November, Arla launched its first branded organic product in the UK, Arla Organic Farm Milk, which is unhomogenised, and comes with a layer of cream on top - like we used to get from the milkman back in the day.

Austin suggests such innovation will be crucial in driving value into the sector. "There is a willingness to offer up more shelf space to fresh non standard sectors and open up space to much needed NPD in order to re asset lost value," he says. "The growth in non standard fresh sectors is helping answer some of the issues in the category, but the main task is around rectifying the losses in the core and to an extent with the offering of more branded lines, with lines that are more ethically aligned to consumers or more aligned to specific health benefits and importantly more expensive and value drivers."

Still, there are signs that the squeeze on prices is starting to ease. In October, Asda's price for four pints of milk hit a two year high of 99p. In November Iceland followed suit and raised its price. Question is, will this be enough to add value back to the category?