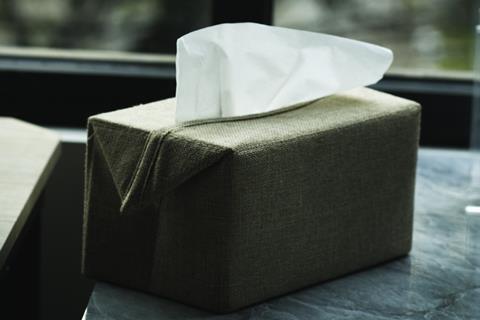 Own label is on a roll. In three of the four paper product categories – toilet tissue, kitchen towels and facial tissue – retailer lines have gained both value and volume. Across those areas, they have amassed an extra £62.6m. And this data doesn't even include the impact of the discounters.
Aldi, for one, reports strong sales of its paper products. "More customers than ever before are switching to Aldi as they realise our products deliver both value and quality," says MD of buying Julie Ashfield. That's having an impact on pricing across the market.
Brands are increasingly selling on promotion in bulk packs "to keep up with a very intense private label competition from discounters," says Nielsen senior client manager Tom Czuder. "This leads to some branded shoppers, in turn, moving from buying relatively higher-priced small packs into bigger pack sizes at a lower price per roll, contributing to further branded value decline."
Against this backdrop, it would be easy for brands to despair. Especially in the case of toilet tissue, in which own label is up a whopping £46.6m. By contrast, toilet tissue brands have lost £3.5m. But there are some positives in the figures.
Take Andrex, which has grown a substantial £11.8m. Unit sales are flat, which suggests shoppers are buying bigger packs. But the higher average price is also a sign that the brand's premiumisation strategy is working. It has been heavily pushing its 'Supreme Clean' premise, promoting its premium tissues and washlets. In the past year, it has also launched Skin Kind, a paper containing a 'prebiotic lotion'. Nielsen's Czuder says Andrex is a "good example of a large brand driving innovations that aim to premiumise".
Cushelle is another example. It's added a staggering £16.9m to its value – or 22% – after adding premium product Cushelle Quilted to its lineup. Further down the rankings, Cheeky Panda is taking a slightly different approach to added value.
Its plastic-free, eco-friendly message has seen its toilet tissue sales more than quadruple over the past year to £463k. The strategy has proven successful elsewhere in paper products. Its facial tissues have increased nearly 10-fold to £161k, and its kitchen towel sales have gone from virtually non-existent to £43k. That's thanks to gaining new listings for the range in Budgens, Spar, Superdrug, Holland & Barrett, Boots and WH Smith.
"Currently we are making and selling 15 40-foot high-capacity containers a month and we are expecting that to grow to over 40 within the next year," says Cheeky Panda co-founder Chris Forbes.
Although a small brand, Cheeky Panda may just be a blueprint for how brands can grow in the paper products market. For sustainability is becoming an increasingly important issue across the board.
Nowhere is this more apparent than in the nappies category. This is the only area where both brands and own label are falling, with value sales down 4.8% and 2.6% respectively.Ian Morley, Northern Europe sales director at Procter & Gamble, says that was down to a continued decline in birth rate. Its market-leading Pampers brand fell £11.9m.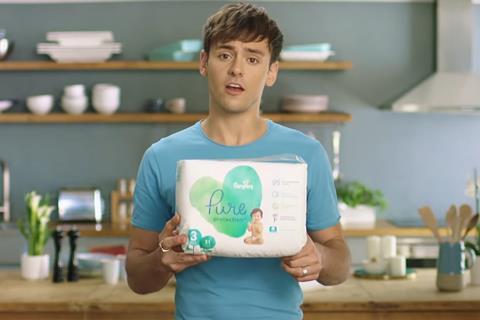 P&G is now looking to sustainable credentials to regain sales. It has launched a Pampers Pure range in response to an "emerging consumer group interested in natural and more environmentally-friendly products".
"It's crafted with organic cotton, no perfume, no chlorine bleaching and it's produced with 100% renewable energy," says Morley.
Huggies, which suffered a devastating 42% blow to value, is taking a similar tack. It plans t0 "completely eliminate plastic from its baby wipe range in the UK over the next five years, or sooner", according to brand owner Kimberly-Clark. "One of the most significant movements at the moment is environmental responsibility," adds a spokeswoman.
That is proven by smaller operations such as the eco-friendly Nappychat brand from Mum & You, which came from nowhere to hit £48,000 in retail sales. The brand sells directly to consumers but has also scooped listings on Ocado and Amazon.
Sustainability is a key selling point. The nappies "have a reduced woodpulp core, which contains no perfumes, dyes, lotion or latex", says Mum & You chief innovation officer Catherine Stoop.
But it's not the only attraction. Nappychat takes its name from the illustrated characters on its nappies, which are linked to stories and poems on a Nappychat app. It's an example of "how we consider 'just' delivering on sustainability is not enough to win in the market", adds Stoop.
Because even in this area, brands have stiff competition from own label. Aldi's Ashfield says the discounter has seen "huge growth in its toilet paper" after launching a trial of paper packaging.
For Nielsen's Czuder, innovation is key to brands winning. Those lacking in this area are being delisted by retailers in favour of new products "which better align with current trends and consumer needs" he says.
So if there's one thing paper products can't afford to do, it's stand still.
The Top Products
In association with nielsen
Top 5 Nappies
£m
change (£m)
change (%)
Total Category:
289.8
-12.2
-4.1
Total volume change:
-2.40%
Total Own Label:
98.8
-2.6
-2.6
This year's rank
Last year's rank
Brand
Manufacturer
£m
change (£m)
change (%)
1
1
Pampers
P&G
183.4
-11.9
-6.1
2
2
Naty
Naty
3.9
0.1
1.1
3
21
Rascal + Friends
Rascal + Friends
1.4
1.4
-
4
4
Kit & Kin
Kit & Kin
1.1
0.7
215.3
5
3
Happy Shopper
Booker Belmont
0.9
0
0
Top 5 Kitchen towels
£m
change (£m)
change (%)
Total Category:
370.8
8.6
2.4
Total volume change:
3.10%
Total Own Label:
172.7
10.9
6.7
This year's rank
Last year's rank
Brand
Manufacturer
£m
change (£m)
change (%)
1
1
Plenty
Essity
87.3
-1.6
-1.8
2
2
Regina
Intertissue
84.6
0.8
1.0
3
3
Nicky
Sofidel
4.1
-0.8
-16.0
4
4
Mega
Accrol Papers
3.7
0.5
18.5
5
7
Euro Shopper
Booker Belmont
2.4
0.3
15.4
Top 5 Facial tissues
£m
change (£m)
change (%)
Total Category:
209.2
-1.1
-0.5
Total volume change:
-2.80%
Total Own Label:
91.3
5.2
6
This year's rank
Last year's rank
Brand
Manufacturer
£m
change (£m)
change (%)
1
1
Kleenex
Kimberly-Clark
110.8
-2.5
-2.2
2
3
Handy Andies
Essity
1
0
0.0
3
2
Velvet
Essity
0.8
-3.2
-80.0
4
7
Happy Shopper
Booker Belmont
0.7
0.1
16.7
5
47
Cushelle
Essity
0.6
-
-
Top 10 Toilet tissue
£m
change (£m)
change (%)
Total Category:
1109.2
43
4
Total volume change:
1.10%
Total Own Label:
558.5
46.6
9.1
This year's rank
Last year's rank
Brand
Manufacturer
£m
change (£m)
change (%)
1
1
Andrex
Kimberly-Clark
361.5
11.9
3.4
2
2
Cushelle
Essity
92.9
16.9
22.1
3
3
Velvet
Essity
26.1
-28.2
-52
4
4
Petal Soft
Intertissue
18.3
0.6
3.6
5
5
Nicky
Sofidel
10.3
-0.9
-7.9
6
9
Superquins
Superquins
8.1
3.4
73.3
7
7
Breeze
Intertissue
6.8
0.5
8.1
8
6
Regina
Intertissue
6.2
-3.7
-37.7
9
8
Happy Shopper
Booker Belmont
4.3
-0.5
-9.5
10
17
Best One
Bestway
3.1
2.2
259.7
The Grocer's Top Launch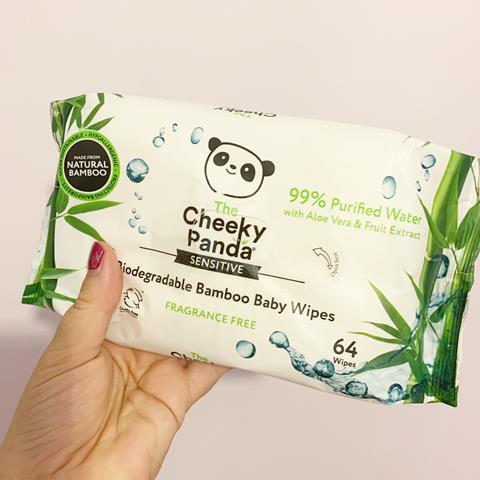 Bamboo Baby Wipes by The Cheeky Panda
The Cheeky Panda's sustainable tissue range enjoyed phenomenal growth this year, driven by NPD and its first listings in major retailers. A high street debut in WH Smith was followed by the launch of Biodegradable Bamboo Handy Wipes. Then came a Boots listing and these biodegradable baby wipes in July – a month after BBC TV's War on Plastic warned of pernicious microplastics in 90% of wet wipes. The Cheeky Panda's plastic-free alternatives promise to break down in a domestic compost bin in three weeks.