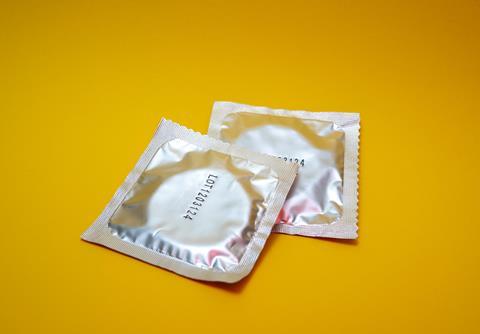 Going out on the pull has practically become a thing of the past. And that's bad news for the sex care category. With pubs, bars and nightclubs closed for weeks at a time, and social distancing advised at all times, opportunities for rumpy pumpy have been much fewer.
Suppliers have blamed this situation for the severe slowdown in condom sales. The sector has shed 14.1% off its volumes in grocery – the equivalent of nearly one million fewer packs.
At the same time, value has fallen by £5.7m. That's a 10.6% drop that would've been even steeper were it not for a 4.1% rise in average unit price to £7.87.
Few condom brands have bucked the market's downward trend. Not even Durex, the powerhouse with value 10 times larger than its closest competitor's, stayed out of the red.
The Reckitt Benckiser brand suffered the biggest drop in value. The company saw £4.7m less in sales than last year as volumes dropped 13.8%.
RB pins Durex's struggle on lockdown. In October, the company reported that "relaxations of social distancing regulations resulted in improved demand" in the latter half of the year. Globally, this has been "particularly pronounced in markets where the rate of pandemic infection has materially improved" CEO Laxman Narasimhan said at the company's Q3 results. That's not a good sign for Durex in the UK, which has one of the highest Covid-19 infection rates in Europe.
The future looks bright for smaller players, though. Playboy has seen unit sales increase by 14.3%, while startup Woowoo has enjoyed a 1,310.5% rise in volumes (albeit from a very small base) after scoring major listings.
Identifying a "real gap in the market for intimate self-care products designed by women for women" four years ago, Woowoo launched condoms into supermarkets this year, a move brand founder Lucy Anderson found "easy". (See our Top Launch, below.)
"Retailers are keen to update this sector as they recognise that things needed to change, especially post the #metoo movement," she says.
Woowoo hopes to change the "old-fashioned views and the stigmas attached to female sexuality", which are "still hugely prevalent" Anderson adds.
Smaller names in the condom market have been the "only brands to see actual growth, while the bigger players have been fighting to retain their share" notes Luke Sisley, senior client analytics executive at Nielsen.
It's a similar story in lubes, where volumes have dropped 10.1%. The top seven brands, including Durex and K-Y, all suffered declines in value and unit sales.
Meanwhile, challengers like organic-focused Yes, MegsMenopause and Woowoo are gaining ground. They've benefited from what Sisley says are the market's growth drivers: "premiumisation and trade up". And they have big ambitions for 2021.
"We want to be a one-stop shop for everyday intimate self-care products and to shift conversations on care down there to be open, bold, proud and fun," says Anderson.
Top Products 2020
In association with Nielsen
Top 5 Condoms
£m
£ change
%
Total volume change:
-14.1%
Total Category:
47.9
-5.7
-10.6
This year's rank
Last year's rank
Brand
Manufacturer
£m
change (£m)
change (%)
1
1
Durex
Reckitt Benckiser
40.5
–4.7
–10.4
2
2
Skyn
LifeStyles Healthcare
4.1
–0.3
–7.3
3
3
Mates
LifeStyles Healthcare
0.9
0.3
–27.3
4
6
Playboy
Playboy
0.0
0.0
8.2
5
NEW
Woowoo
LA Personal Products
0.0
0.0
-
Top 5 Lubes
£m
£ change
%
Total volume change:
-9.0%
Total Category:
24.1
-1.7
-6.6
Total Own Label:
2.3
0.0
-2.7
This year's rank
Last year's rank
Brand
Manufacturer
£m
change (£m)
change (%)
1
1
Durex
Reckitt Benckiser
10.5
–0.9
–7.8
2
2
K-Y
Johnson & Johnson
2.9
–0.2
–7.8
3
3
Balance Activ
BBI Healthcare
2.4
0.0
–1.6
4
4
Vagisan
Wolff
0.6
–0.1
–15.0
5
5
Vagisil
Combe International
0.4
0.0
–7.1
The Grocer's Top Launch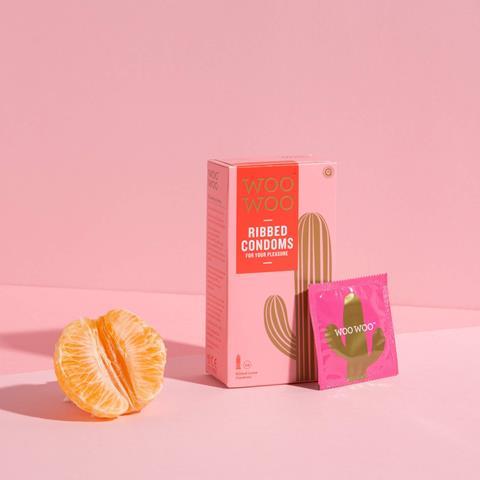 Condoms for women, Woowoo
Condoms have seemingly forever been aimed squarely at men, with female shoppers forced to peruse shelves full of dark, masculine packaging or nudie magazine-style branding. That's no longer the case.
Feminine care startup Woowoo rolled out its range of condoms at the start of 2020 – aiming them squarely at women. The packaging is bright, playful and pink. And the product promises to be perfect for whenever ladies "wanna get risk-free frisky".