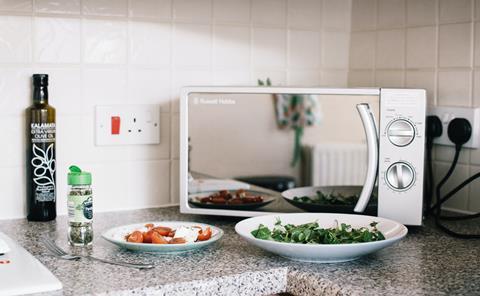 Covid-19 has helped wipe £75m off chilled ready meals as millions of shoppers, either furloughed or working from home, picked up their pots and pans to practice their scratch cooking, and Brits made fewer trips to the supermarket.
These two factors helped drive a 3.7% value decline in fresh ready meals, the largest and most premium of the three ready meals sectors.
"Demand for ready meals purely on the basis of convenience, when an equivalent could easily be prepared from scratch, has sharply declined," says Patrick Cairns, CEO of Charlie Bigham's. "At the beginning of lockdown, total ready meals sales declined by more than 25%."
Own-label paid the price, and forced down the overall market value, as supermarkets prioritised brands amid shopper stockpiling. Private-label lost £93.9m in chilled this year and sold 34 million fewer packs, a double whammy for players like Greencore.
Conversely, and in spite of lockdown, brands grew both value (7.6%) and volume (2.5%) as a result of higher prices and being names panicky punters knew and trusted.
Plus, they offered an at-home equivalent to fare served in the pubs and restaurants that were closed during lockdown. Take Bigham's, which has upped its unit sales by 20% across its posh meals such as Beef Bourguignon & Potato Dauphinoise and Moroccan Chicken Tagine.
It was this appetite for fancy dishes that gave premium pie maker Higgidy the confidence to make its debut in chilled ready meals this June (see our Top Launch, below).
Everyday brands benefited too. Rustlers' extra £11.1m this year was boosted by shoppers unable to visit fast food chains, says Adrian Lawlor, chief marketing officer for the foods division of brand owner Kepak. That was in spite of losing the "significant presence we have every day in food to go".
Elsewhere in ready meals, both ambient and frozen enjoyed noteworthy gains driven by stockpiling. In frozen, own label generated twice the extra value of higher-priced brands: £14.4m versus £7.3m.
Top Products 2020
In association with Nielsen
Top 5 Chilled Ready Meals
£m
£ change
%
Total volume change:
-4.0%
Total Category:
1989.8
-74.2
-3.6
Total Own Label:
1709.8
-93.9
-5.2
This year's rank
Last year's rank
Brand
Manufacturer
£m
change (£m)
change (%)
1
1
Rustlers
Kepak
111.0
11.1
11.1
2
2
Charlie Bigham's
Bigham's
90.7
14.1
18.4
3
3
McIntosh of Strathmore
Strathmore Foods
10.3
–1.4
–12.1
4
5
Gressingham
Gressingham Foods
10.2
2.2
28.3
5
4
Little Dish
Little Dish
9.2
0.2
2.6
Top 5 Frozen Ready Meals
£m
£ change
%
Total volume change:
2.4%
Total Category:
409.9
21.7
5.6
Total Own Label:
226.6
14.4
6.8
This year's rank
Last year's rank
Brand
Manufacturer
£m
change (£m)
change (%)
1
1
Slimming World
Loxton Foods
56.5
–11.8
–17.3
2
2
Bisto
Kerry Foods
16.8
0.5
2.9
3
3
Kershaws
Kershaws
13.1
1.6
13.7
4
5
Young's
Young's
11.4
0.3
2.3
5
4
WW
Kraft Heinz Co
11.1
–2.5
–18.6
Top 5 Ambient Ready Meals
£m
£ change
%
Total volume change:
4.6%
Total Category:
224.2
20.5
10.1
Total Own Label:
5.6
0.7
15.1
This year's rank
Last year's rank
Brand
Manufacturer
£m
change (£m)
change (%)
1
1
Pot Noodle
Unilever
130.0
15.5
13.5
2
2
Naked Noodle
Symingtons
18.7
-0.2
-1.5
3
3
Batchelors
Premier Foods
17.4
0.8
5.4
4
5
Nissin
Nissin
14.3
5.9
70.9
5
4
John West
John West
10.5
-0.5
-5.1
The Grocer's Top Launch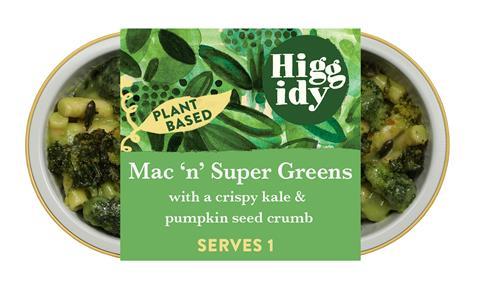 Higgidy ready meals, Higgidy
Posh pie brand Higgidy debuted in ready meals in June with four meat-free dishes. The likes of Mac 'n' Super Green with a Crispy Kale & Pumpkin Seed Crumb and Mushroom & Puy Lentil Cottage Pie with Kale & Butter Bean Mash made their bow in Sainsbury's. With an rsp of £4.25 (360g-390g), 100% of proceeds from the first eight weeks of sale went to NHS Charities Together. Higgidy co-founder Camilla Stephens says she wants to "put veg right into the centre of the plate".