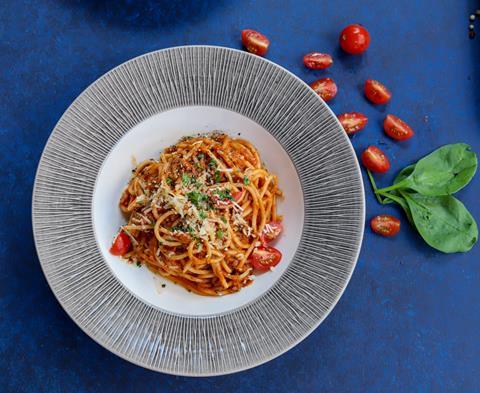 There's a new head chef in the kitchen. After many years at the top of cooking sauces, Dolmio has been usurped by Old El Paso.
The change in power dynamic comes after an extra £158.8m poured into cooking sauces, which emerged as one of the biggest beneficiaries of lockdown. That's more than 10 times the growth The Grocer reported this time last year – and, before that, cooking sauces had endured several years of decline.
The intermittent closure of hospitality has been a driving force behind this change in fortunes. As shoppers were keft unable to visit their favourite restaurants, they looked to spice up their home cooking. Italian grew as a result but, in the monotony of lockdown, far-flung flavours performed even better as Brits looked for a taste of the exotic.
Hence Old El Paso's victory over Dolmio. There's now £2.9m between the two rivals. While the Mars brand enjoyed a £13m boost compared with last year's disappointing performance, its General Mills rival made an extra £19.2m, as volumes soared 10.6%.
Consumers have been "experimenting with bolder flavour profiles," says Maeve Judge, marketing manager at Old El Paso. "Traditional British cuisine has fallen out of favour, with consumers increasingly looking towards world food products to inspire more adventurous meals in their homes. "We gained more than one million consumers during lockdown and saw fantastic growth of 45% at the peak," Judge adds.
The same trend led to a boon for the likes of Nando's, up a cheeky 180.3% to £2.4m. Having a well-known restaurant name behind you at this time can't hurt. But it also helps that Nando's predominantly sells marinades and rubs, rather than just stir-in sauces.
Because, as Brits have spent more time in the kitchen, they have opted more for options that involve a greater element of cooking. For example, Old El Paso says its growth was primarily driven by its Tex Mex kits. "Since the first lockdown, one in five people have spent time improving their culinary skills and two fifths of people say they enjoy cooking more than ever before," explains Judge.
Sharwood's seems to have benefited from the same trend. It has added £15.2m, having launched a range of Indian-inspired pastes. According to brand owner Premier Foods, two million new households have bought into Sharwood's since the start of lockdown.
But Andrey Sokirkin, brand director for cooking sauces and accompaniments at Premier Foods, also stresses that home cooking meant different things to different people. "Some turned to cooking sauces for a quick solution, and others seek pastes that offer versatility and control," he says.
Either way, it looks like this once beleaguered category is cooking once again.
Top Products 2020
In association with Nielsen
Top 20 Cooking Sauces
£m
£ change
%
Total volume change:
13.2%
Total Category:
979.3
158.8
19.4
Total Own Label:
270.7
42.9
18.8
This year's rank
Last year's rank
Brand
Manufacturer
£m
change (£m)
change (%)
1
2
Old El Paso
General Mills
119.2
19.2
19.2
2
1
Dolmio
Mars
116.4
13.1
12.7
3
4
Sharwood's
Premier Foods
75.7
15.2
25.1
4
3
Patak's
ABF
72.5
10.8
17.5
5
5
Blue Dragon
ABF
65.4
14.6
28.7
6
6
Loyd Grossman
Premier Foods
55.7
5.9
11.9
7
7
Saclà
Sacla
28.9
5.1
21.4
8
8
Amoy
Kraft Heinz Co
25.5
2.8
12.2
9
9
Homepride
Premier Foods
23.9
3.2
15.5
10
10
Uncle Ben's
Mars
20.7
2.5
13.7
11
11
Kikkoman
Kikkoman
14.9
5.5
57.9
12
12
The Spice Tailor
The Spice Tailor
11.5
3.0
35.3
13
13
Napolina
Princes
9.0
0.8
10.2
14
15
Lee Kum Kee
Lee Kum Kee
8.7
2.8
47.9
15
16
Chicken Tonight
Symingtons
5.7
1.0
21.0
16
14
Santa Maria
Santa Maria
5.4
–2.3
–30.5
17
19
Kingfisher
Lovering Foods
4.9
1.3
34.8
18
17
Seeds of Change
Mars
4.5
0.2
3.6
19
20
Geeta's
Geeta's Foods
4.3
1.6
58.1
20
18
Thai Taste
Bespoke Foods
4.3
0.6
17.7
The Grocer's Top Launch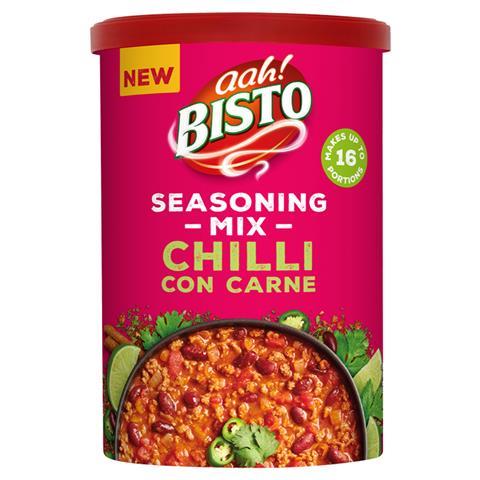 Bisto Seasoning Mix, Premier Foods
Premier Foods launched this lineup of Bisto seasoning mixes last October. Available in Warming Chilli Con Carne, Hearty Chicken Casserole and Comforting Spaghetti Bolognese, each mix is packed in a 170g drum that promises 16 servings. The format provides greater flexibility and control over portion and taste than flavour mix sachets, says Premier – and each variant comes with the promise of "guaranteed results and the ability to flavour with confidence".