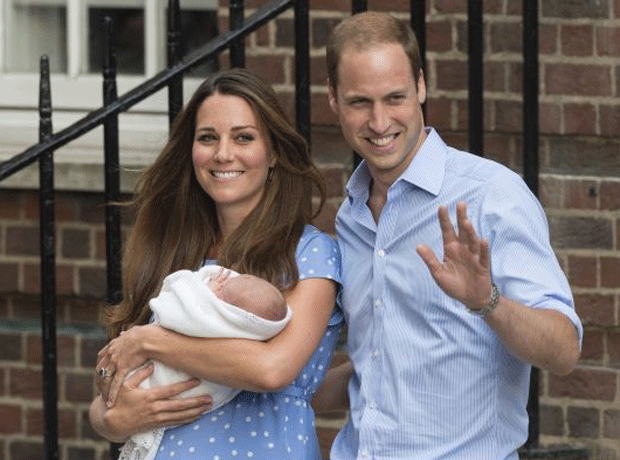 As the nation goes goo-goo-ga-ga over the royal baby - now third in line to the throne - retailers and manufacturers are licking their lips at the birth of gorgeous George.

And none more so than Asda. "George has been Asda's baby for the last 22 years, it's a name fit for a King," said the retailer, barely able to conceal its joy. Its excitement won't be limited to the baby aisle either. When the new mother emerged on Tuesday wearing a blue polka dot Jenny Packham designed dress, Asda sold out of a similar style overnight - shifting 5,000.

All eyes will now be fixed on the baby product selections of the new parents, with buggy, nappy and babyfood brands in particular praying for a royal seal of approval to propel sales.

But this is an opportunity the whole industry is keen to embrace.

'It's a Prince - raise a glass to the Royal arrival,' read Tesco's ad alongside a promotion to save £7.99 on a bottle of Moët & Chandon. 'Wills and Kate: Congratulations from Asda's little angels' declared Asda as it bettered Tesco with promotions on not one but three Champagnes, as well as nappies, baby wipes, shampoo and baby lotion. 'Congratulations to the Duke and Duchess of Cambridge on the birth of their beautiful baby,' M&S proclaimed, while running a competition to win a £250 baby hamper.
On the baby brandwagon
Golden Wonder: Approached women outside cinema and bowling alley toilets in Oxford, handing out crisps to those 'third in line for the throne'…
Warburtons: An ad in the national press showed a bun being removed from an oven by Union Jack-gloved hands with the slogan 'One's bun is done'.
Oreo: Tweeted 'Prepare the royal bottle service' and posted a picture of a bottle on a red cushion with an Oreo and the slogan 'Long live the Crème'.
Coca-Cola: An ad in national press featured two Coke bottles with the names Wills and Kate, tying in with its Share a Coke personalisation promo.
Bassetts Jelly Babies: National press ad read: 'The jelly babies eagerly await outside the palace for the new arrival.'
Pampers: Tweeted 'Every baby is a little prince or princess' before urging parents to share pictures of their kids.
Charmin: Tweeted 'Get the throne ready! There's a new cub in the Royal family' and posted a picture of a gold potty in front of a Union Jack, sceptre and orb.
Baby shower

Even before the birth of Prince George of Cambridge, William and Kate's local Asda in Llangefni, Anglesey, prepared a parent and child parking space with the markings 'HRH Reserved' - a stunt that garnered tons of national publicity.

And whether it's been limited-edition regal babywear ranges, celebratory fresh cakes or crown-shaped biscuits in commemorative tins, it's clear much planning has gone into maximising the opportunity.

However tenuous, many brand owners have also been busy celebrating the birth (see box) - although Princes has so far notably failed to take advantage of its name to any effect.

And if the frenzied excitement appeared out of control those feeling nauseous could even reach for a Shake, Rattle and Rule-emblazoned sick bag.

But how big is this opportunity for the industry? And how lasting will its impact be?

According to the Centre for Retail Research, the royal baby could boost the economy by £243m. The organisation predicts £87m will be shelled out on food and drink, £80m on souvenirs and toys at home and abroad, and £76m on books, DVDs and media.

"In some ways the royal baby is a sprat to catch a mackerel," says Professor Joshua Bamfield, the Centre's director. "The secret of retail success is that people come into your shops or go online to spend money. If people are shopping for the royal baby, the hope is they'll carry on doing some more."

BRC director general Helen Dickinson anticipates a "temporary baby boost" for retailers in the UK "if the experience of the Royal Wedding and the Jubilee is anything to go by. It will undoubtedly bump up sales of baby products, souvenirs and brands favoured by the new royal parents, but the past two years have also demonstrated that the feelgood factor has a more wide-ranging positive impact on retailers," she says.

"The temporary lift in the general mood helps to drive footfall and with all eyes on the UK it's also a real boost for tourism and is likely to drive international consumers to UK brands, websites and their overseas stores."

However, Bryan Roberts, director of retail insights, Kantar Retail, remains unconvinced. A Kantar poll of more than 8,000 people found that 82% had no intention of celebrating the birth of the royal baby. Just 3% plan to host or attend a party, 5% intend to buy a souvenir gift or collectable and 3% will purchase a souvenir publication or DVD.

Event fatigue

In fact Kantar suggests the level of unsold Olympics stock in store implies that British shoppers might be suffering from "event fatigue".

"Figures pointing to the uplift [in sales] are wildly optimistic," Roberts says. "Looking back at previous royal births I can't recall any celebratory activity. It's a different matter for weddings and the Jubilee. They were genuinely celebratory events the usual souvenir merchandise and magazines will probably come out in force. WHSmith might benefit with commemorative publications."

Roberts adds that any significant uplift in sales in July will "undoubtedly" be due to the recent spell of scorching weather rather the royal baby.

"The only area where we're going to see shopper behaviour being stimulated is when [Kate] walks out with a certain brand of car seat or pram that will lead to shoppers looking to emulate that purchase," he says.

Although Roberts believes incremental spending is going to be modest, he adds the so-called 'Kate effect' is likely to be more significant than baby George.