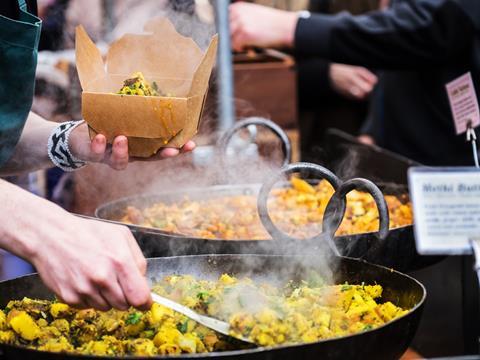 Twenty years ago, street food was barely a concept in the UK. If you told your friends you had eaten a street delicacy, it generally meant you had succumbed to the late-night temptations of a greasy burger or kebab van. As Wahaca co-founder Thomasina Miers remembers, "getting anything other than a hot dog or Mr Whippy on the streets was almost impossible".
Thanks to the likes of Miers, the picture today could not be more different. Street food is now at the forefront of culinary innovation. Showcasing everything from crowd-pleasing Indian wraps to unfamiliar cuisines such as Ugandan and Filipino, it's fast becoming big business. According to a report by The Grocer's sister publication MCA, the street food market is forecast to reach £1.2bn this year, up 9.1% from 2017. That's comfortably outstripping the percentage growth seen in fast food, albeit from a smaller base.
Watch: The Grocer visits Brighton's Street Diner
Foodies are a driving force behind this explosion. Nearly a third of self-described foodies say they often buy street food, compared with just 5% of non-foodies, according to a poll of over 2,080 consumers conducted by Harris Interactive exclusively for The Grocer. This food-loving demographic was also more likely to describe street food as exciting (80%), authentic (78%) and high quality (72%).
All of which means it's a trend worth noting. Not only are restaurants rushing to mimic the flavours of street food – Dishoom, Wahaca and Masala Zone are among the high-profile examples – but retail is now getting in on the act. Schwartz, Rubicon and Street Delights are among the brands to have brought out products that aim to replicate the experience at home (see innovations, below). If they can get it right, they stand a chance of tapping the high-value foodie audience.
So which cuisines are leading the way in the retail crossover? Which flavours and dishes are proving popular? And what will be the next big street food cuisine?
From Kolkata to Kerala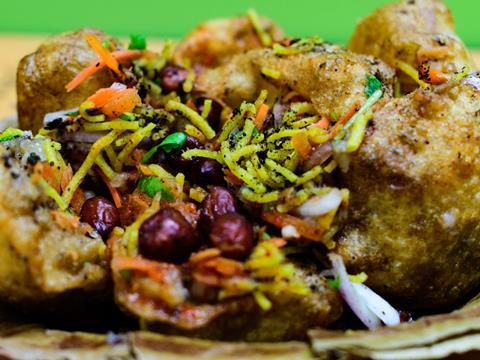 In store now: Waitrose's Bombay brunch wrap and Iceland's Mumbai street food range
In store tomorrow: Indian burgers – 'pavs' – are tipped to make their way into retail, along with vegetarian-led Gujarat dishes
Named one of the top trends in the latest Waitrose Food and Drink report, Indian street food has exploded onto the scene as predicted. And it bears very little resemblance to the tikka masala. That the first Market Hall food site in Fulham – a blueprint for the two other Market Halls set to come to London, including the gargantuan 36,000 sq ft Oxford Street site – includes a Calcuttan stall speaks volumes. Founded by Asma Khan of the critically acclaimed Darjeeling Express, the Calcutta Canteen serves delicacies such as kati rolls (a wrap made with paratha bread and a choice of spicy fillings) and puchkas (wheat and semolina shells filled with spiced black chickpeas, potatoes and tamarind water).
Street food is bringing this type of regional cuisine to the fore, says Indian chef Hari Ghotra. "From the Punjabi chole bhature (tangy chickpea curry and soft fluffy bread) to Mumbai's pav (bread rolls served with potato cakes or speared with spiced vegetable curry), each state has its favourite street corner dish," she explains.
George Pitkeathley, founder of Indian street food chain Pilau, says handheld options are also proving popular. He names its butter chicken wrap, which includes the traditional dish with fresh ginger, lime, slaw and chutney or yoghurt, as a favourite among its core lunchtime crowd.
Retailers are taking on board the demand for modern formats and regional flavours. Waitrose launched a Bombay brunch wrap – an egg wrap containing egg, pork sausage and spinach with a spiced tomato, chickpea and chilli bombay sauce – on the back of its trend report. "It's all about merging different cuisines to excite our palates and create new fusion dishes," says Waitrose executive chef Jonathan Moore. Iceland brought out its 16-strong Mumbai Street Co range in January, designed to replicate "the melting pot of flavours found on the streets of Mumbai". Then there's the biryani kit by Street Delights (see innovations, below), designed to replicate the one-pot cooking seen on the street.
So what's next? The Grocer's sister publication Food Spark, which analyses food trends, tips the pav as a dish to watch. Essentially an Indian burger, pavs are rolls stuffed with either a vegetable curry or minced meat. Gujarat street food is another area with potential. Including dishes such as dhokla – fermented rice and split chickpeas – much of Gujarat food is vegetarian by tradition, making it perfectly placed to capitalise on the plant-based boom.
New wave Mexican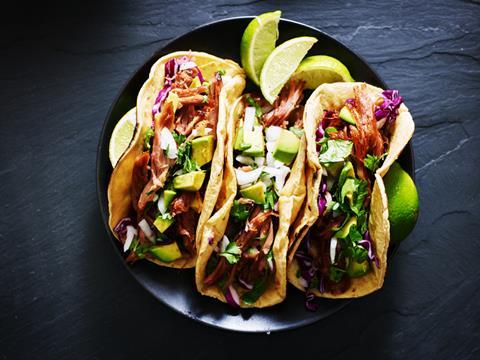 In store now: The Wahaca range of kits and seasonings, including a Sweet & Smoky Barbacoa Soft Taco Kit, and Schwartz Mexican seasoning
In store tomorrow: Waitrose is set to launch a vegan jackfruit taco in time for Christmas, and Iceland has just unveiled a Mexican street food range
We're all familiar with the standard burritos, enchilladas and tacos. But the rise of Mexican street food means UK consumers are now branching out beyond the basics. We've got the likes of Wahaca – arguably a pioneer of Mexican street food in the UK – serving fusion recipes such as Devon crab & avocado tostada, or regional fare such as pork pibil tacos from the Yucatán. Then there are the La Choza street food restaurants in Brighton serving pulled pork smoked in house for 14 hours. A simple burrito this is not.
As a result, Schwartz says consumers are turning away from the trusty fajita kit in favour of more subtle, authentic flavours. "People have moved away from traditional chilli towards zingy flavours with jalapeño, garlic and lime," says head of marketing Nic Yates. Culinary developer Craddock says this means Tex Mex is out, while "Yucatan-style flavours" and more unusual dishes such as baja fish tacos are in.
All this is already evident in the retailers. We have the Wahaca range, with SKUs ranging from a Tomato and Chipotle seasoning mix to a Habanero soft taco kit, and the Gran Luchito range of sauces including a Smoked Chilli Chipotle paste.
FoodSpark says this diversity is only set to grow. Iceland has just launched a Mexican street food range with products such as chicken mole and green corn, and Waitrose is introducing a vegan jackfruit taco in time for Christmas. Plus Food Spark believes interest may venture from Central into South America, as consumers discover delicacies such as Venezuelan arepa (maize rolls) and Peruvian juanes (a rice and meat dish wrapped in leaves).
Beyond Middle Eastern mezze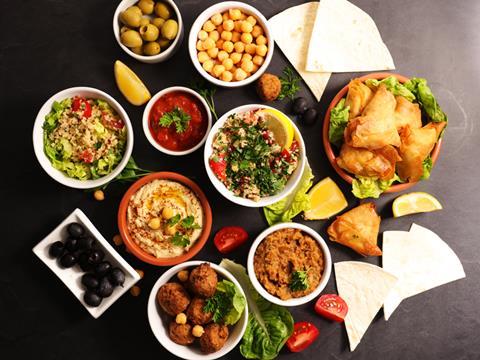 In store now: Baharat seasonings, mezze selections
In store tomorrow: Manousheh (Lebanese pizza) is tipped for big things
Aside from basic mezze, Middle Eastern food remains relatively unexplored in the UK. That all looks set to change. Lebanese cuisine is looking like a particularly hot area of growth. Street food eateries such as Yalla Yalla are bringing dishes such as Samboussek Chicken – pastry parcels filled with pulled chicken, onions confit, sumac and garlic – and baked flat pastry Manaee'sh to the UK's palates. Or for simpler, handheld options, there are operators such as Beyroots offering the likes of a Chicken Shish Taouk wrap.
This activity prompted Schwartz to make room for Baharat – a Middle Eastern blend of spices including coriander, garlic & black pepper – in its street food seasonings range. "Baharat works well with lamb, bulgur wheat and a minted yoghurt," says Yates. "It's creamy and cooling and a bit spicy." It joins existing Baharat SKUs, which include offerings from Tesco Finest and Bart, in the retailers.
There is clear potential to go beyond mezze and spices. Food Spark points to manousheh, which is essentially a Lebanese pizza, as a possible future crowd-pleaser. That the delicacy gained a mention in The Guardian's faddy eater column this year suggests awareness could be building. Outside of Lebanese cuisine, Food Spark believes Turkish börek and Iranian kebabs could also prove popular. It's certain to beat the late-night kebab of twenty years ago.
The street food innovations making their way into retail
Rubicon Street Drinks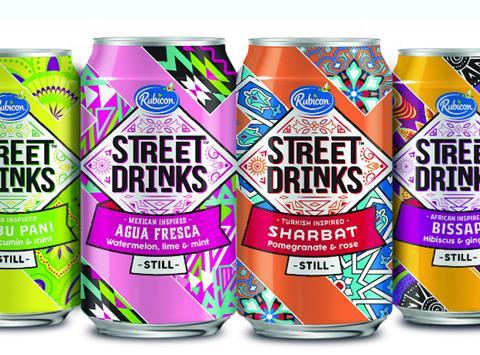 Launched: July 2018
Manufacturer: AG Barr
Inspired by "authentic street drinks from some of the world's hottest places", this four-strong range (rsp: 79p/330ml) launched just in time for the UK's scorching summer. With flavours including Turkish Sharbat (pomegranate & rose); Mexican Agua Fresca (watermelon, lime & mint); Indian Nimbu Pani (lemon, cumin & mint) and West African Bissap (hibiscus & ginger), AG Barr is hoping to tap the major street food markets. Plus with no more than 4.5g of sugar per 100ml, it ducks the sugar tax.
Schwartz street seasonings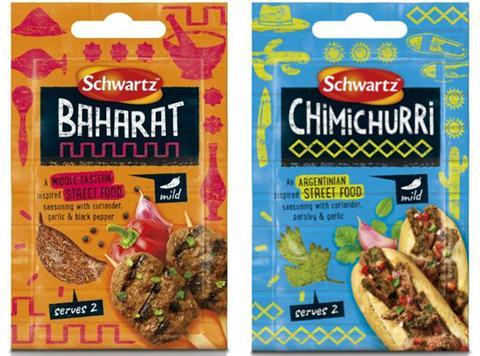 Launched: June 2018
Manufacturer: Schwartz
Designed to help consumers recreate their favourite street food experiences at home, this range includes Korean BBQ, Baharat, Caribbean Jerk, Chimichurri, Sriracha and Mexican spices (rsp: 99p/14g). The launch is backed by a campaign "to help reinvigorate the herbs and spices category" including a partnership with Kyra TV, a digital channel aimed at millennials.
London Flavours Street Food crisps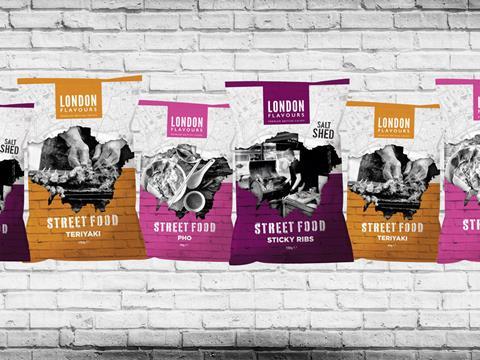 Launching: September 2018
Manufacturer: London Flavours
High-end crisp brand London Flavours is hoping to inject more excitement into the market with this street food inspired range, which includes Pho, Teriyaki and Sticky Ribs flavours. Available in 40g and 150g bags (rsp: £1 and £1.99), the new range will be supported by social media activity and sampling around London ahead of its big-bang launch later this month.
Street Delights meal kits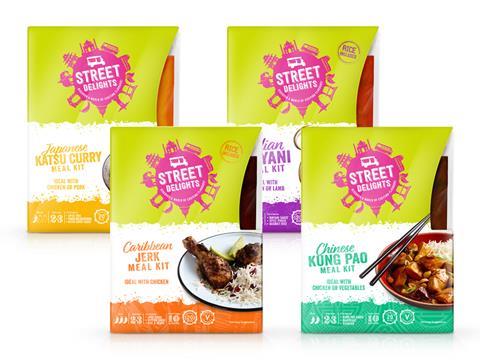 Launched: August 2018
Manufacturer: Indo-European Foods
IEF's head development chef Navin Bhatia travelled far and wide to find "the most iconic street food dishes" for the Street Delights range, launched and listed in Tesco this summer. The result is a six-strong range of meal kits including everything from Caribbean Jerk to Indonesian Nasi Goreng and Moroccan tagine (rsp £3/£3.69). All dishes can be made in "three simple steps" to ensure they are easy to recreate at home.
Store profile: Eat 17
The latest Eat 17 branch in Hammersmith, London aims to bring the experience of outdoor street food markets indoors
Who said you could only get street food on the street? Eat 17 is hoping to recreate the atmopshere of a "vibrant open air food market" in its latest opening in Hammersmith's Smiths Square building.
Two thirds a grocery store and one third a street food market, the branch hopes to capture both time-poor commuters in search of a meal for tonight and diners wanting a quick bite before a night out.
The street food area includes three independent sellers: an Indian street food outlet, a BBQ stall and a pizza stand with a full pizza oven. For drinks, there is an in-house coffee bar and refill stations for food, wine and beer.
With 34 spaces to eat inside and 20 outside, Eat 17 hopes it will become an eating area that will attract high footfall "well into late evening".