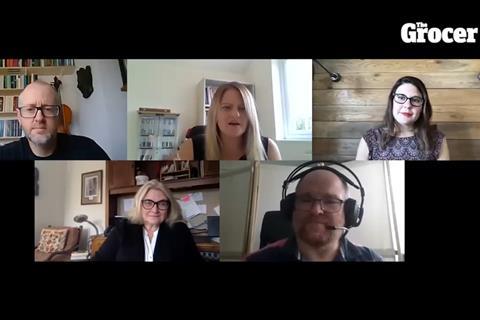 The Grocer's webinar on the future of CBD in grocery is now available to watch on demand.
CBD is one of the hottest trends to hit fmcg in recent years. Millions of UK shoppers are consuming it, and sales are projected to hit £1bn by 2025. But the clock is ticking for food and drink suppliers that already have CBD products on shelves.
They have until 31 March to apply to the Food Standards Agency for novel foods status. Those that don't will face being removed from stores. But applying for novel foods status can be a complex and costly process. And it has been further complicated by the pressures of the Covid-19 pandemic.
First aired on 22 September, the webinar is hosted by online editor Carina Perkins and features a panel of experts and industry figures: the FSA's head of novel foods, Paul Tossell; Leila Simpson, head of external affairs at the Association for the Cannabinoid Industry; Rosemary Mazanet, chief scientific officer at Columbia Care; and Planet Organic's buying director Al Overton.
The conversation covered the likes of opportunities for retailers, product traceability, the EU's new stance on non-synthetic CBD, and the novel foods application process.
There was also discussion of the varying quality of CBD products, and the impact on consumers.
"There is an enormous variation of quality on high street shelves at the moment," Simpson said. She cited a report by The Times – in partnership with the ACI – which found several CBD lines available from a major pharmacy chain contained controlled substances. Others contained less than 50% of the advertised amount of CBD, and one had none at all.
"Clearly, there's a risk to retailers in choosing what to stock," she added. "Consumers are vulnerable. We need to build consumer confidence in the industry."
Protecting shoppers was a key reason for the FSA's novel foods application, Tossell said. "It's there as a safety test – and that in itself gives reassurance to consumers."
He stressed that CBD suppliers must not simply apply for novel foods status by 31 March but in fact have their application validated by the deadline. The FSA will then assess each product.
"We want the reassurance of a safe product. Going through the system will help everyone," Tossell added.
If you missed the broadcast or want to watch again, register and watch for free.